It takes more than dedication, training and stamina to excel at endurance riding. It takes real passion for the sport, and Lexi Vollman of Regina, SK, has that in spades.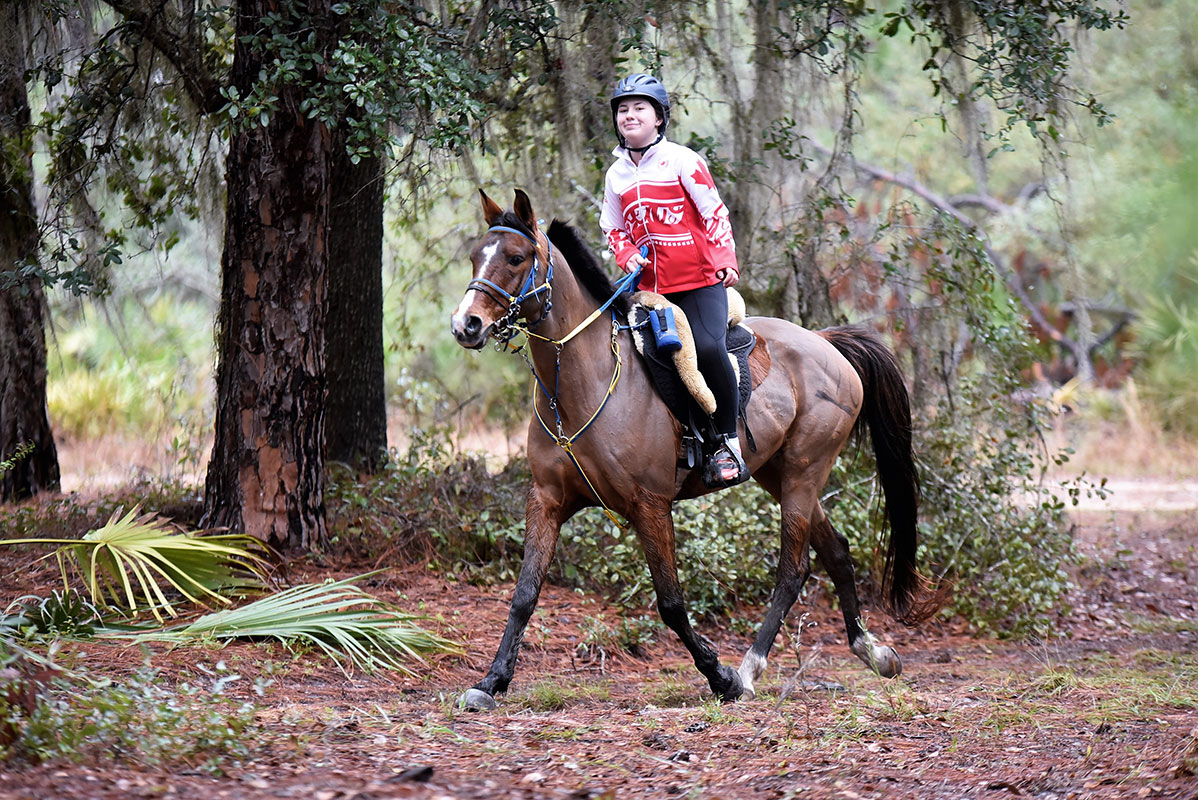 Lexi Vollman has earned top results at CEIJ 2* races, including a second place finish in Dunnellon, FL in January 2017 aboard Just Gold.
Photo Credit – Tre Wheway
The 17-year-old first started riding at age three, walking around the yard and up and down the road at her grandparents' farm. From there it was on to her first pony, Lola, before entering the competition ring when she was 12.
"I began competing in barrel racing jackpots and small shows," explained Vollman of her competitive start. "I used a couple different horses over the years, but the main ones would be my mom's old mare Chiquita, my old pony Roxy and my current horse, Splash. None of them particularly enjoyed showing but they all put up with it anyways."
Proving her versatility as a rider, Vollman opted to try her hand at tackling the trails, and took on the challenge of endurance riding, a sport that tests horse and rider over varied and often tough terrain. Not phased by the challenging treks, she made the move to the FEI level last year with her trusted mount, AJ Splash of Pizzaz, aka Splash, a 10-year-old bay Pintabian gelding.
"From the start of my endurance career, I've always loved riding with my mom," explained Vollman, who often competes alongside her mother and fellow FEI competitor, Tracy. "Even if it's a miserable day or race, it's always nice to cross the finish line and see the smiling faces of your crew. One of the biggest highlights of my competitive career has been meeting so many welcoming people who are always so helpful to both the riders and horses."
That's one of the things about endurance riding. Winning isn't always the biggest triumph. Sometimes it's just crossing the finish line at the end of the race, which can be up to 160kms. In the past two years, Vollman has seen her share of impressive finishes. Of the seven FEI rated events she's competed in, she's completed all but one. She's even scored a few victories along the way, including taking first in 2016 at the CEIYJ 1* 80 at Birds Hill Provincial Park in Manitoba, first in the 2017 CEIYJ 2* 120 in Williston, FL and most recently, first in the CEIYJ 1* 90 in Ashland, MT in June.
Two of those wins, the CEIYJ 1* in Manitoba and the CEIYJ 1* in Montana, came with her long-time partner Splash, however, Vollman has also had the opportunity to test her mettle with other mounts.
"I've had some amazing opportunities to travel to different places and ride new horses," she said. "I definitely think my riding career would not have been complete if I hadn't been able to ride down in South Carolina for the Young Riders Endurance Team challenge last year."
Vollman was the top ranked Canadian at the event, which saw 22 endurance riders, aged 14 to 21, from six teams representing Canada, Guatamala, Ecuador and the United States, descend on the Broxton Bridge Plantation in Ehrhardt, SC to contest a CEIYJ 2* 120 event. Riding Just Gold, a 12-year-old bay Arabian gelding sired by AF Sir Vivor and owned by American Valerie Kanavy, she finished an impressive sixth individually, completing the 120km race in just over eight hours.
"This year I'm hoping to become an elite rider and go to the FEI World Endurance Championship for Young Riders and Juniors in Italy in the fall," said Vollman. "Although many of the 2* races I'll be riding in won't be on my own horses, I'm hoping to complete at least one on Splash and possibly start racing my newest horse, Caliente, in some limited distance races."
Currently sitting 23rd in the FEI Young Riders World Endurance Ranking, Vollman's already well on her way to earning a berth in Italy's championships.
"To get to the FEI level you must be extremely committed to your sport," noted Vollamn. "You must be willing to ride no matter what the weather and you also must be able to train endlessly. My advice for any young riders with the goal of reaching the top level of the sport would be to just love what you are doing. In order to reach the top level you have to really love the sport and be completely willing to do almost anything for it."
Vollman certainly has. But this down-to-earth rider has her priorities straight, proving she has the stamina, dedication and heart to continue to make her mark in a sport she so clearly adores.
"My main goal for endurance racing is simply to have fun," she explained. "Hopefully, though I'll make it to a high enough level that I can ride all around the world. Other than that, I just love to ride and want to keep racing and meeting new people who share this love for horses with me."
Article reprinted with permission of Equestrian Canada and first appeared in the July 2017 EC Insider
---