Diamond League Western hosted the World Para Reining International Championships July 4-9 in Ermelo, Netherlands, with 6 different countries competing at the Dutch National Equine Center. Para Reiner Janice Boucher of Prince Albert, Saskatchewan, who was diagnosed with Parkinson's disease 3 years ago, represented Team Canada alongside teammate Lauren Barwick of Langley, BC. As the show provided live feed, family and friends were able to watch and cheer from home.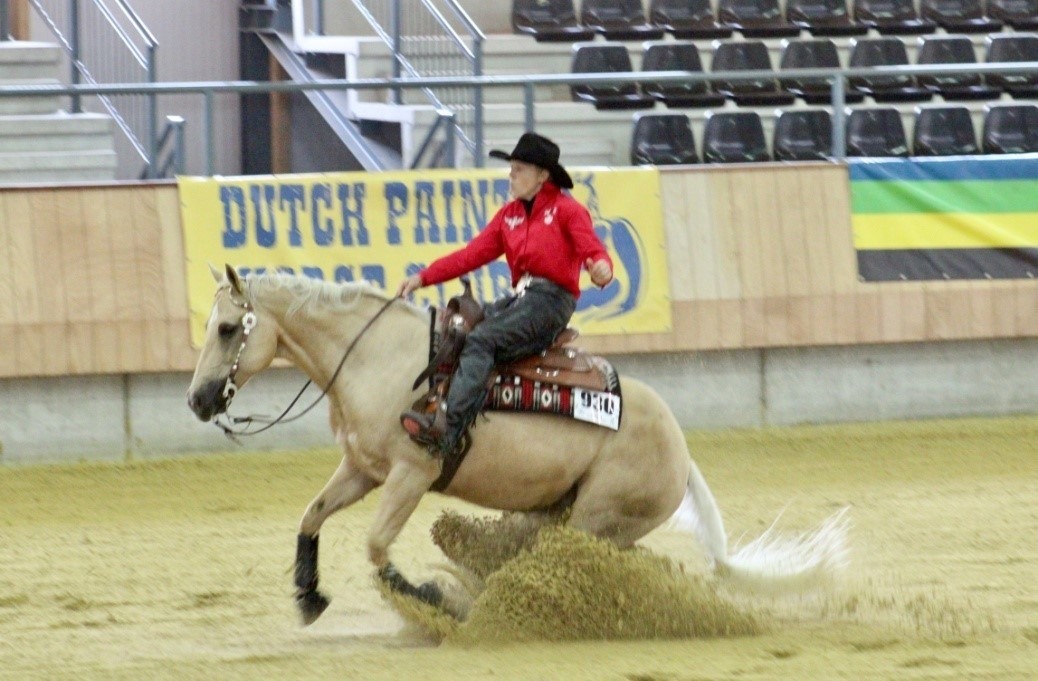 On July 1st, Janice alongside her husband Roger and her two daughters Colleen and Dominique, headed to the Netherlands. The show started off with a 2 day clinic on the 4th and 5th given by Lisa Coulter founder and organizer of WPR. This gave the riders an opportunity to get to know their new mounts. Janice spent this time getting to know "Jac's Golden Freckles" who was borrowed from Nicole Finkler of Germany. A draw party was held July 5th, and the riders drew numbers to determine where they would ride in the Team and Individual Competitions.
On July 6th Janice and teammate Lauren Barwick rode to victory, winning Gold for Canada in the Team event.
"It was an emotional experience," Boucher said, "I feel very proud and honored to be on Team Canada representing my country and having such an accomplished rider as my teammate. We work well together and Lauren is an inspiration to me." Having been on Team Canada last year together for the international championships in Oklahoma, and capturing the Team Silver, these ladies understood what it would take to get on the podium.
"We knew we had to be consistent and put in good scores," Lauren came through with a 206.5 and Janice with a 206, making them the only team to have 2 scores in the 200's.
Hearing the Canadian national anthem while on the podium is nothing new to Barwick, but to Boucher, it was everything, "It makes you feel very proud." Lauren is a Para Olympian Gold Medalist and is also in the Para hall of fame.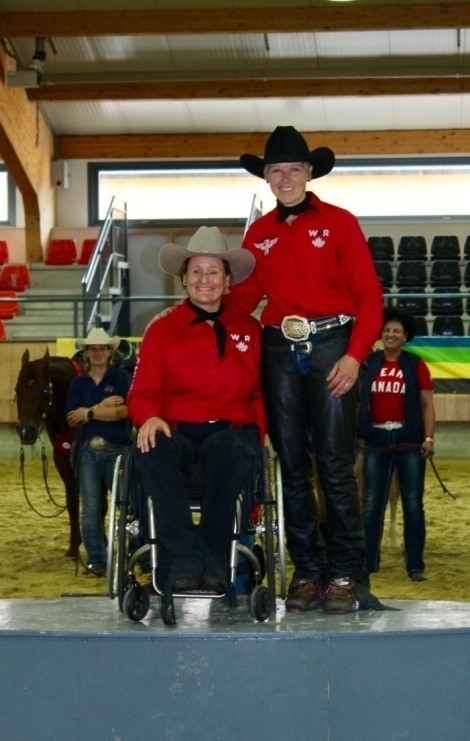 In the Individual Round on July 8th, the competition proved to be fierce. Boucher rode in the individual event finding her way back to the top of the podium on the world stage, winning her second Gold Medal as well as the AQHA highest scoring rider award. Boucher said, "I am so excited and humbled to be a part of this great world class event. I honestly never thought I would be able to compete at something like this when diagnosed with Parkinson's. Sometimes the things we can't change end up changing us."
"WPR has opened so many doors for me and given me a place to show; acceptance and belonging go hand in hand. I have so many people I want to thank who helped make this possible: Lisa Coulter who coached us and held the clinics, which helped provide us the opportunity to get to know our new horses. Lisa is very good at motivating everyone and bringing out the best in both horse and riders. The Western Diamond League for putting on a great show; Envirocan Alberta for their generous sponsorship; my coach Daryl Cartier for helping me prepare; my teammate Lauren; Nicole Finkler for allowing me to ride her amazing horse Jac; SRHA for getting me a travel grant from SHF; Pan Imaging (Holly Wells); and of course my family and friends whose love and support continue to motivate me."
WPR's slogan Changed by Chance, Champions by Choice is something we all need to live by according to Janice, "Just because you have a disability, doesn't mean that you have to stop everything. You need to keep going and realize that there are other doors that will open and people that can help."
By Dominique Dryka
Photos by Colleen Smith
---