The Awards of Distinction for Equine Welfare is presented by Saskatchewan Horse Federation and Farm & Food Care Saskatchewan to recognize excellence in the recipients and serve as a reminder of the importance of providing exceptional care to animals The 2017 Award for Young Steward of the Future is presented to Norah Ridley of Osler, Saskatchewan.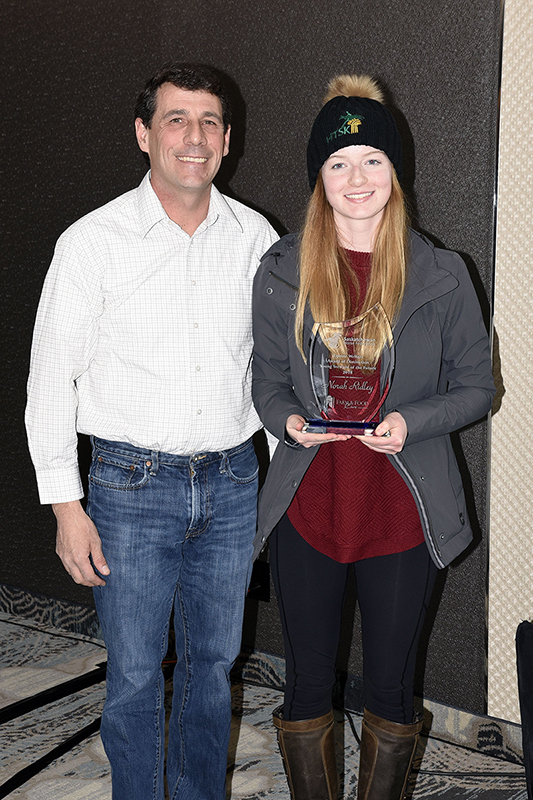 This award recognizes a young person between the ages of 13 and 25 who has shown a commitment to responsible equine care through their practices as a horse owner and their interactions with others.
Heavily involved in teaching stable management practices to her younger Pony Club peers, Norah encourages excellence in horsemanship and has earned their respect leading by example as she demonstrates her own great horsemanship.
Volunteering with Equilibrium Therapeutic Riding Centre on a weekly basis for the past seven years Norah has acted as a leader and has provided care and management for their herd of therapy horses.
Norah is a very conscientious horse owner and embodies everything good in horse welfare. The needs of her horse always come first whether in day-to-day care or at shows where she's recognized for keeping the cleanest stall and the most groomed horse, impressive when considering he's a grey. She's also admired for employing the best possible bio-security precautions to protect her horse.
Norah maintains a progressive conditioning program with proper preparation for the different seasons and maintenance throughout. Her choices always reflect what is best for her horse. She spends countless hours studying and researching responsible equine care.
Norah is a role model for all youth and adult horse owners. Perhaps the greatest testament to this is that one of Norah's coaches was noted as saying she has been inspired to be a better horse owner because of Norah's great example of horsemanship excellence. She exemplifies the principle that horse ownership is a responsibility as well as a great privilege.
Award presented by Erwin Hanley, Chairman of the Board of Farm and Food Care Saskatchewan