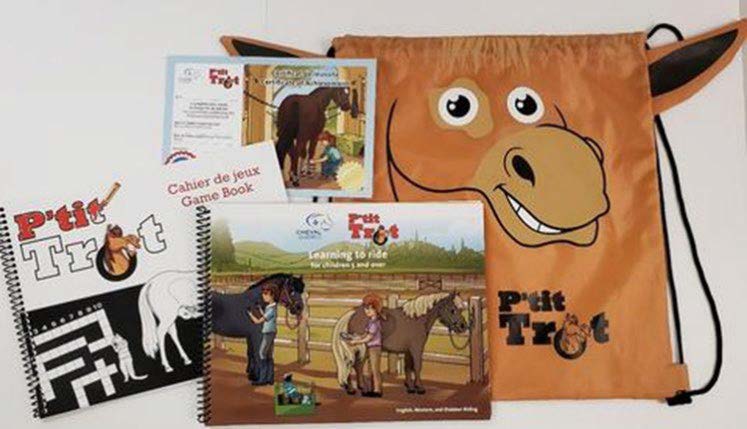 What is P'tit Trot?

P'tit Trot is an educational program for children aged 5 and over who are fascinated with horses and
ponies and wish to take care of them and learn the basics of English, Western or outdoor riding.

The P'tit Trot materials are fully illustrated with colorful drawings and humorous notes that help the
child discover the ABCs of horse behavior, care, terms, and the basics of riding in a safe
environment.

Each P'tit Trot program package includes the following:
• Manual
• Certificate of achievement for each level (bronze, silver, gold and platinum)
• Game book
• P'tit trot sport pack
• User guide
• Activity sheets & answer key
• Progress report

The P'tit Trot is also an excellent introduction to the EC English and Western Learn to Ride Program
The teacher helps the child to acquire all the concepts presented in each chapter of the book. The
teacher validates the knowledge acquired by giving the child a certificate for each level reached:
bronze horseshoe, silver horseshoe, gold horseshoe, platinum horseshoe.
Additionally, this program falls into the "Fundamentals" stage of the Long Term Equestrian
Development model.

Who May Use P'tit Trot?
Certified Stakeholders (instructors, coaches, pony club instructors, day and summer camps); as well as
parents are invited to use this entertaining and educational program. After purchasing a complete P'tit
Trot program kit(s); a user guide will be provided by sending a request to [email protected]

How Do I Order P'tit Trot?
You must be a current individual member of the SHF to order the P'tit Trot Program. The program cost is
$29.95 plus GST and shipping if required. Please contact [email protected] to order.

SHF extends a special thank you to Cheval Quebec for the use of this program