Trail Riders Photo Contest --- enter monthly to win!
The winner for the 2020 Trail Riders Photo Contest is Jessica McKinnon-Fehler
Congratulations Jessica!!!!

Reminder – by sending in your photo (s), you are giving permission for SHF to use your photo (credited to you) in all SHF promotional material.
Thank-you to all who have submitted Trail Ride Photos below: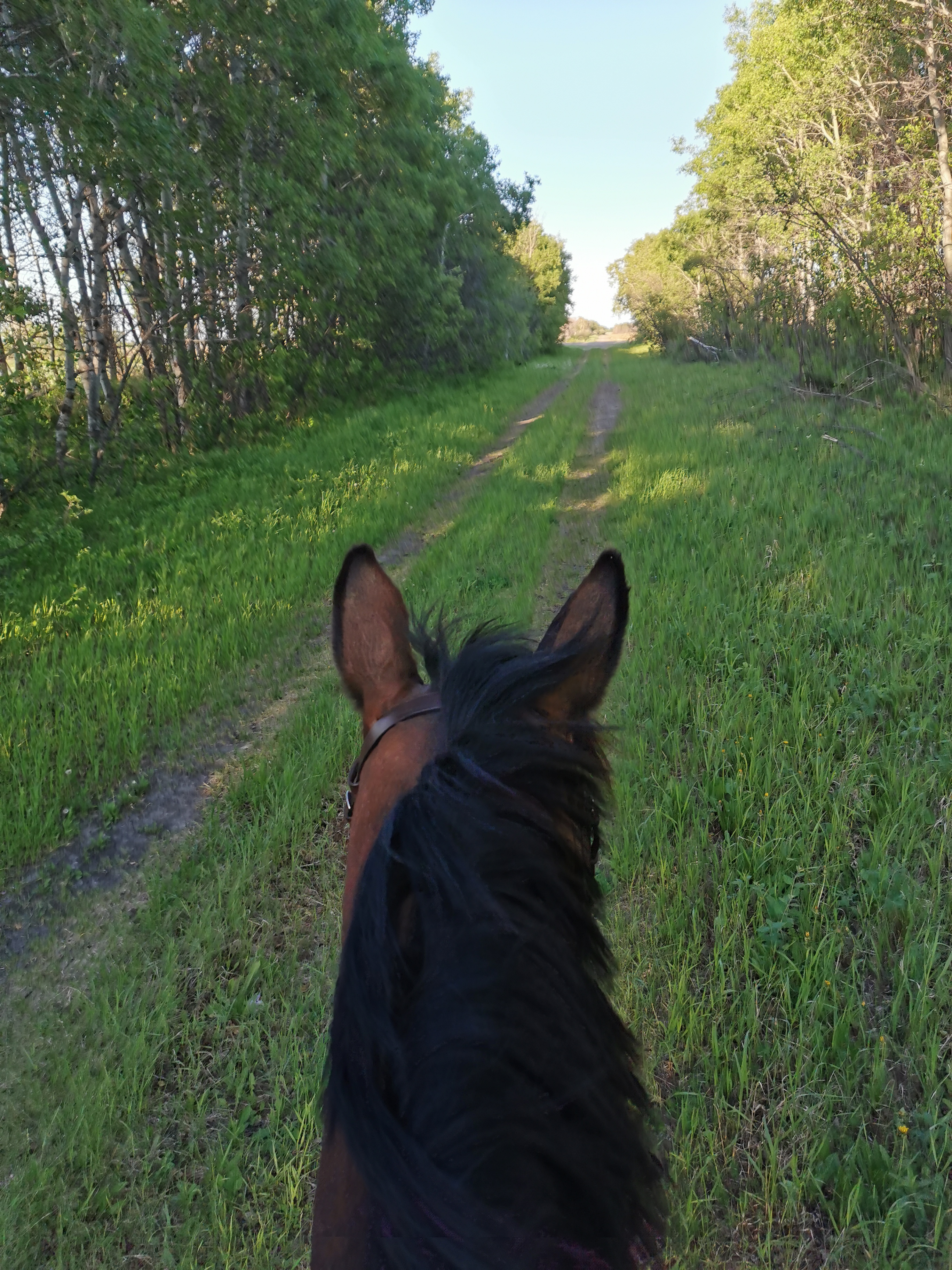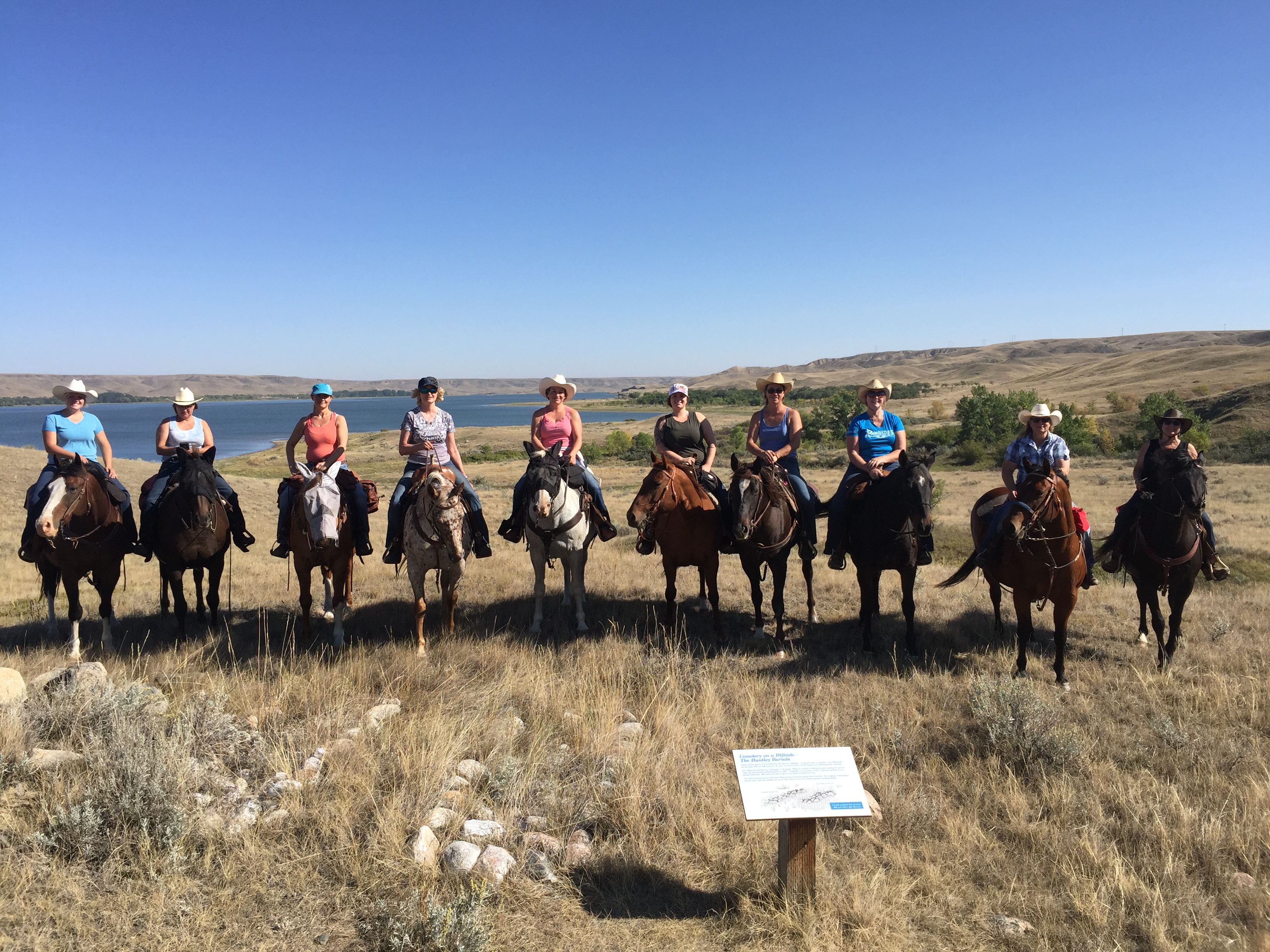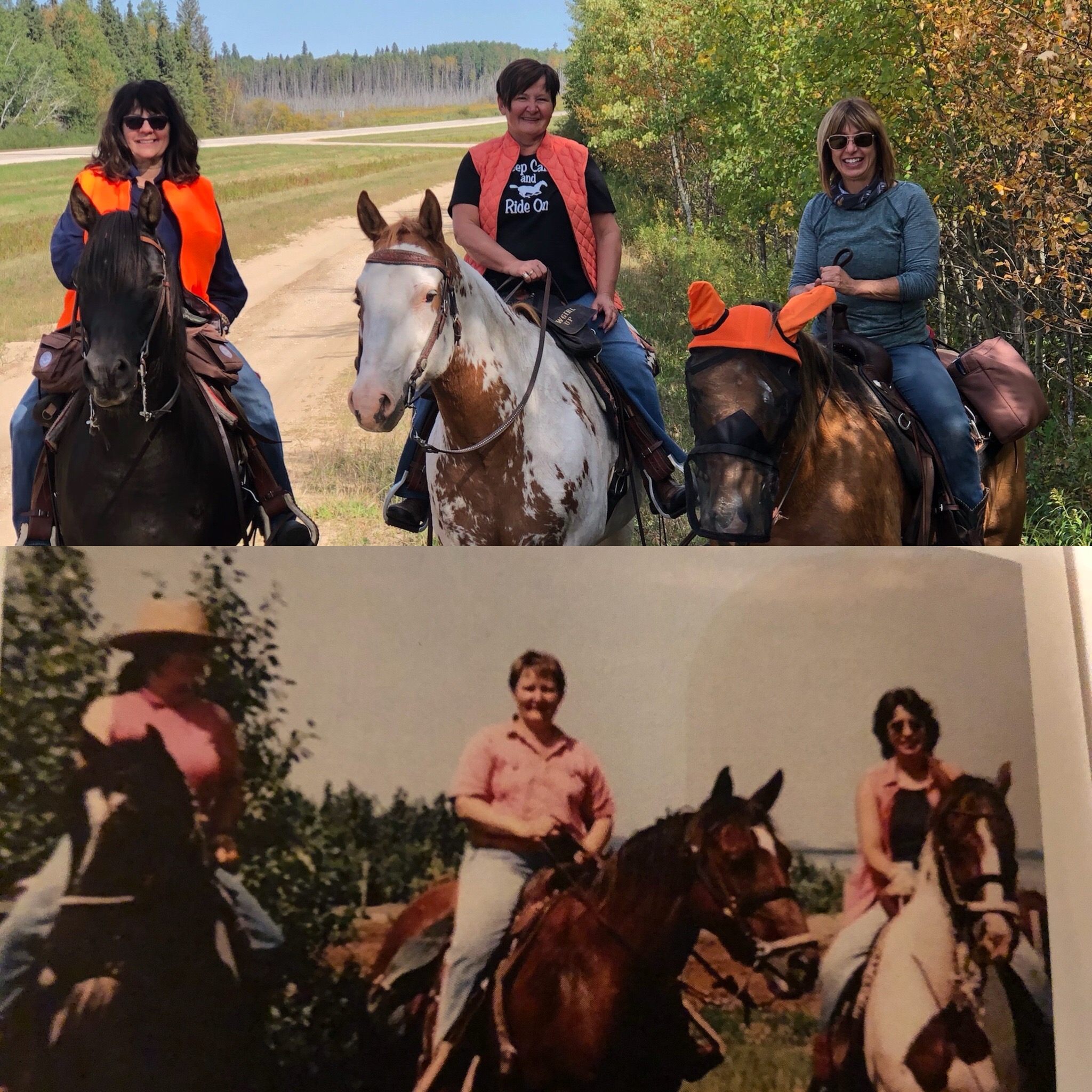 I found this spot on the edge of the Saskatchewan Landing Batoche Friends for 20 Years!
nature reserve by my place and
it's my favourite spot to trail
ride with my girl!
Horse: Mimi
Photo by Jessica McKinnon-Fehler (July 2020) Three photos by Loretta Hrenyk (July 2020)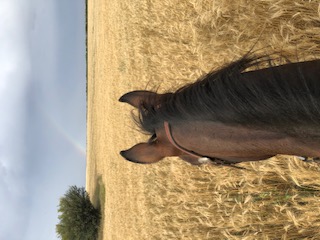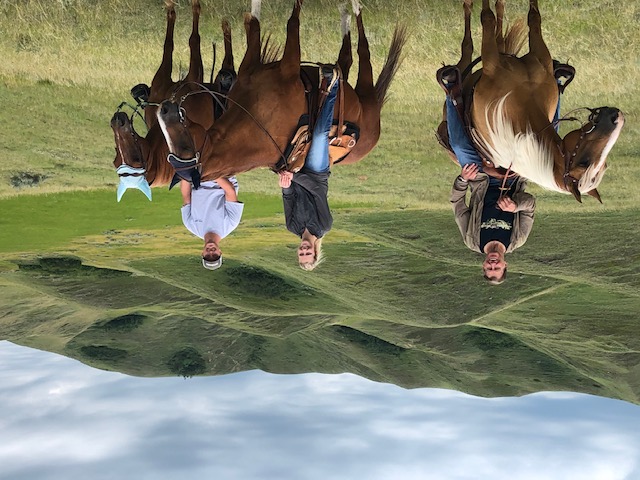 Captured this beautiful rainbow Sunday Morning Trail Ride with friends on the Great Canadian Trail pictures of our recent trip to Sask landing.
on a ride with my 6 year old aqha Trail near Saskatoon. Beautiful contrast of storm brewing sky, purple Barry Huffman (Penny), Makayla Rettger (Foxy),
mare Jazz last fall during thistle With blue roan horse and iconic July canola yellow fields . Sean Stanger ((Hollywood).
during harvest time.
Swift Current, Saskatchewan Misty Blue and Regina Wood
Photo by Joni Muri (July 2020) Photo by Regina Wood (July 2020) Photo by Tammy Rettger (July 2020)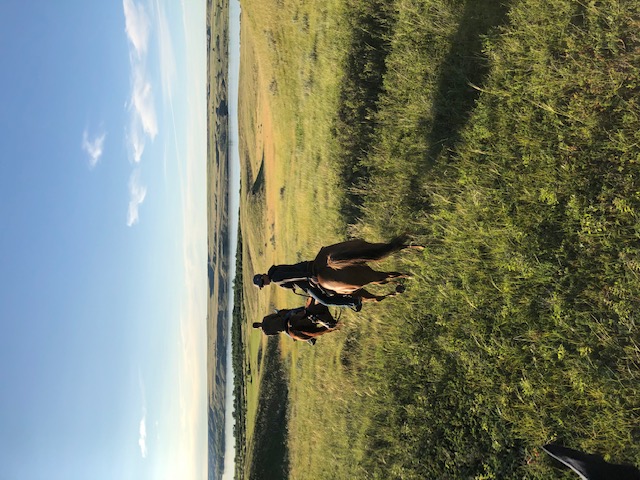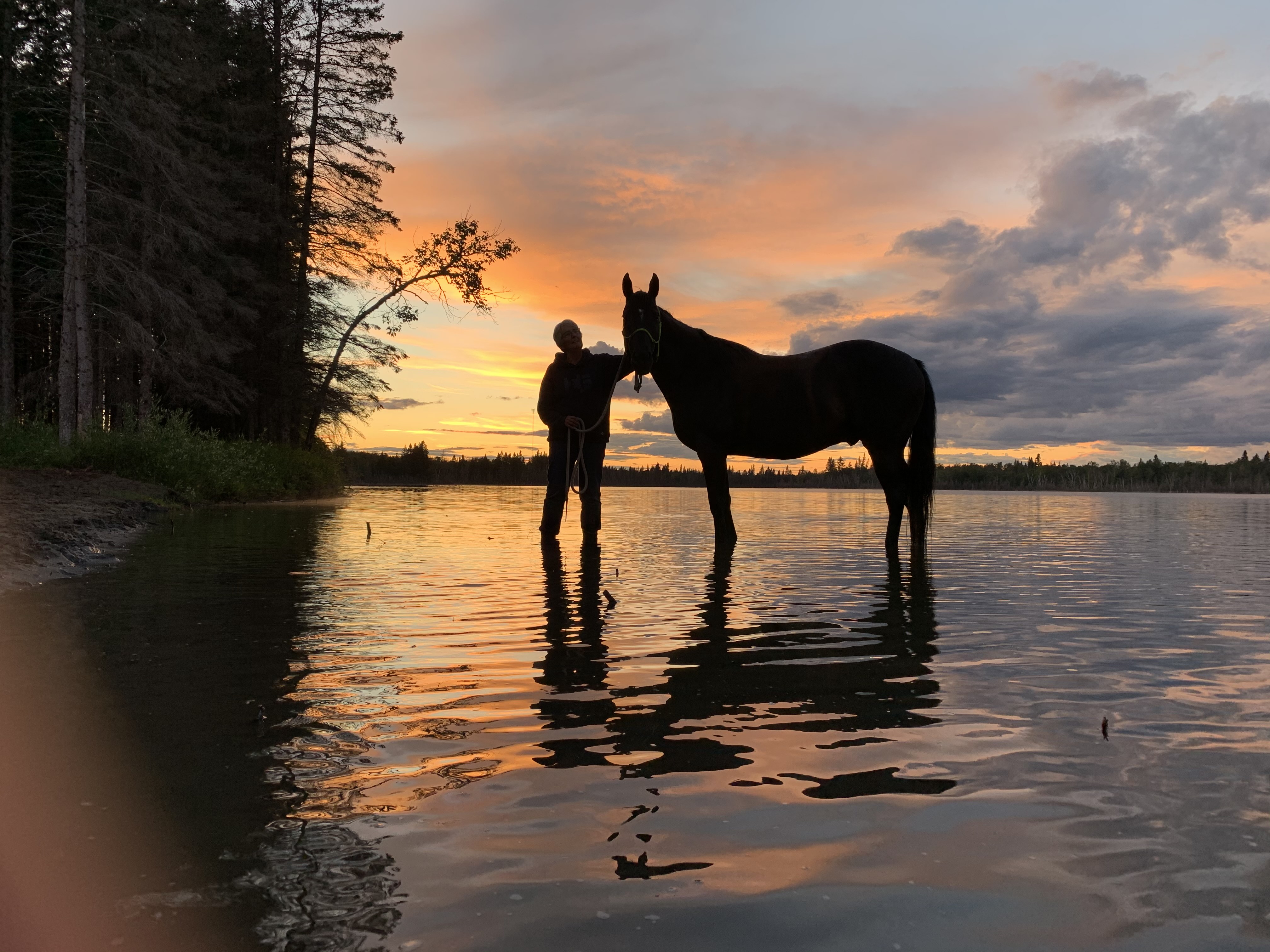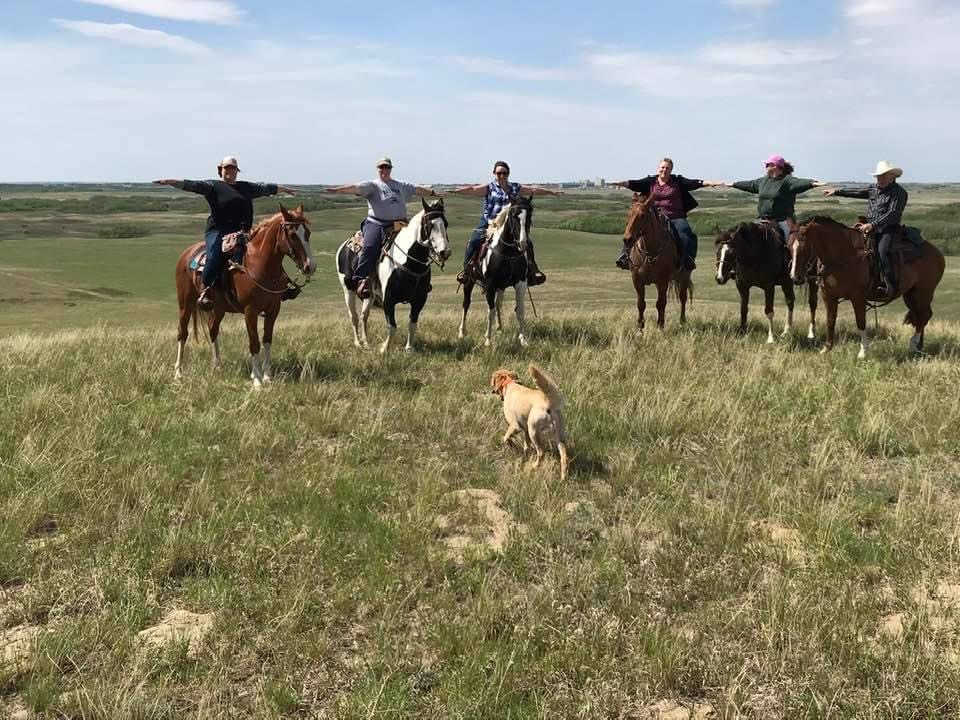 Tammy Rettger - Button Eileen McGill and her gelding Armonie Trail riding by Biggar
Dave Rettger - Hollywood Adamson Lake, Saskatchewan Horse is Sirs Peponita (Leo) - black & white paint, 2nd from the left
Photo by Tammy Rettger (July 2020) Photo by Barb Yedersberger (August 2020) Photo by BJ Wolfe (August 2020)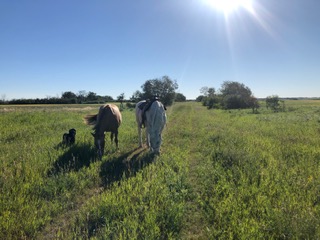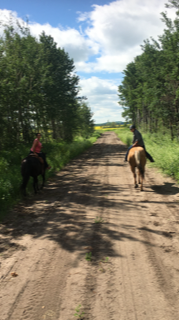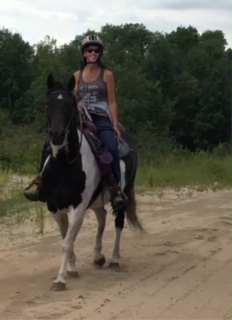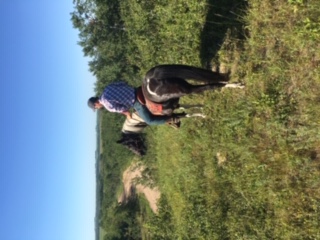 Stopping for a lunch break. Brenda riding Max and Rosalie riding Kit Kat Jo Riding Toby Mason riding Dax
Loki(dog), MsPearl(the Dun being ponied), Clem. Near Edam, Saskatchewan Near Edam, Saskatchewan Near Edam, Saskatchewan
Back trails...Lebret, Saskatchewan area. Mason, now 22, started riding Dax at age 13
Photo by Colleen Stueck (August 2020) Three Photos by Jolene Sittler (August 2020)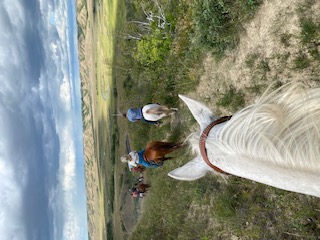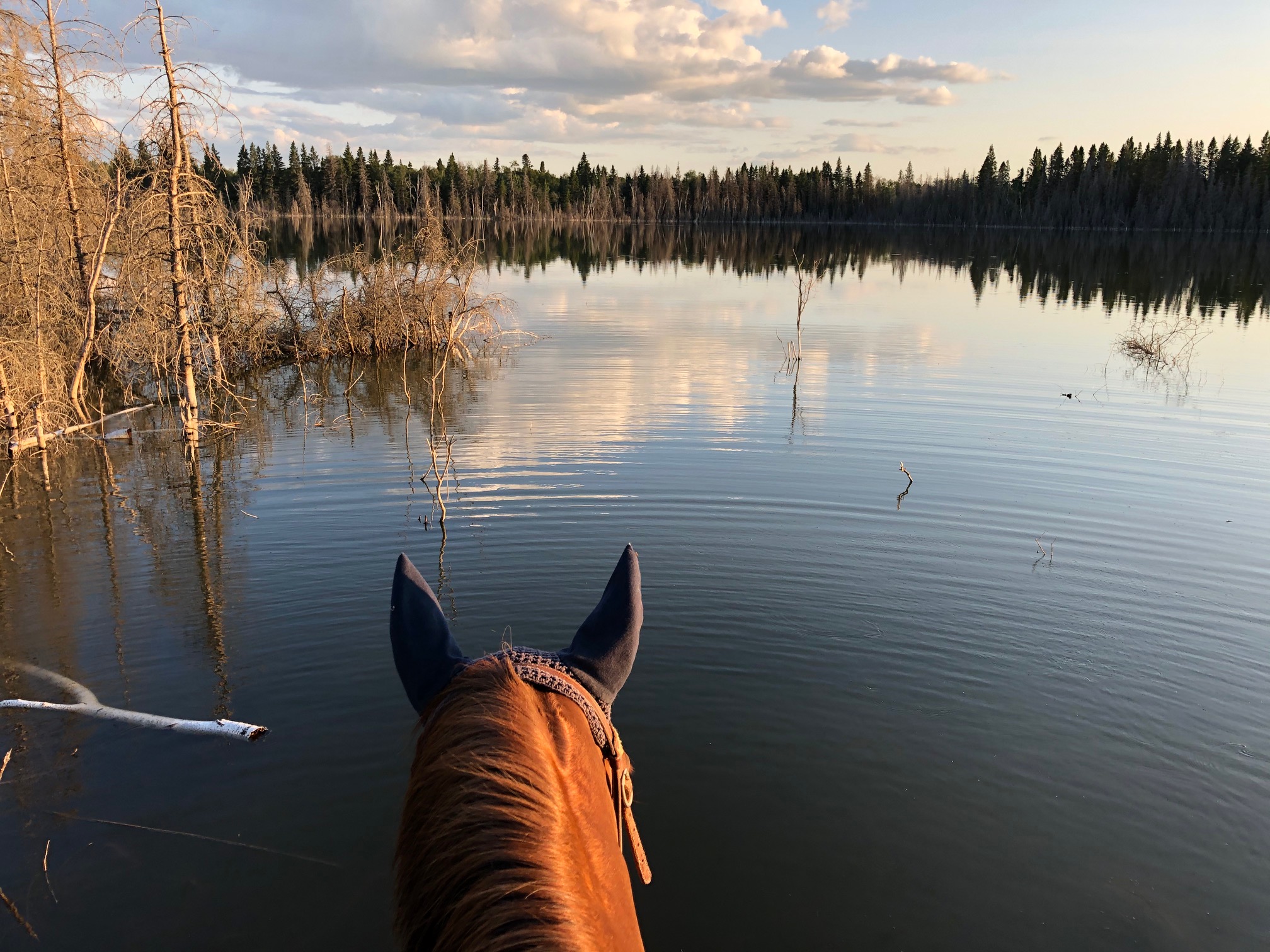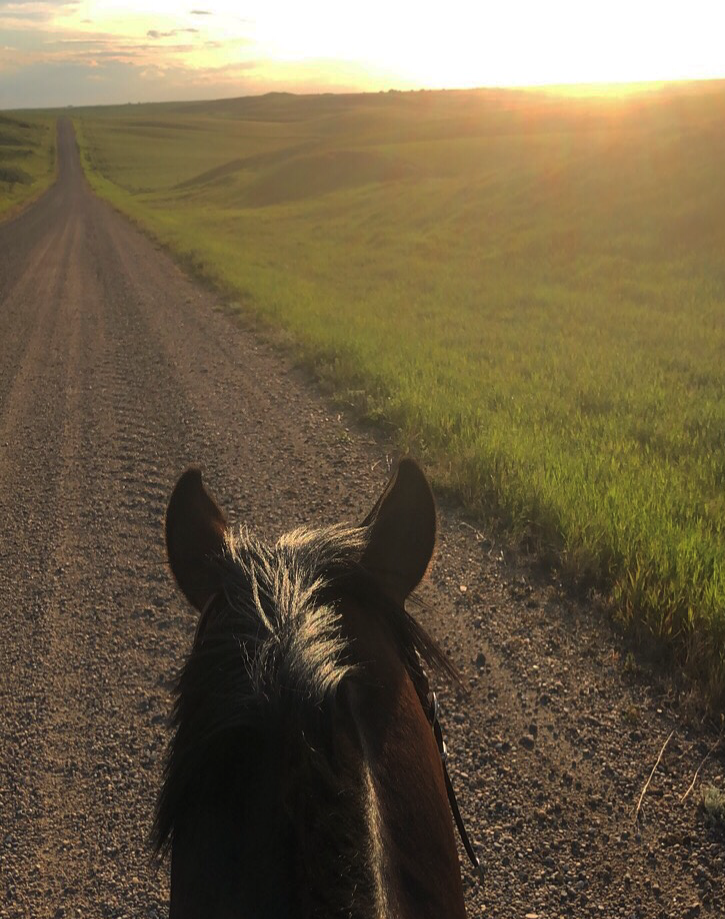 Our riding club finally able to have a trail ride! Trail ride around the lake at Living Waters. Beautiful trail ride with a mare named Cat.
North of Wolseley in the Qu'Appelle Valley Horse - Foxy (sugar Q Honeydoo) was Makayla's youth Show horse.
Together they won many prizes through the Saskatchewan Horse Federation
Photo by Laurie Stringer (August 2020) Photo by Makayla Rettger (August 2020) Photo by Rachel Schwinghamer (August 2020)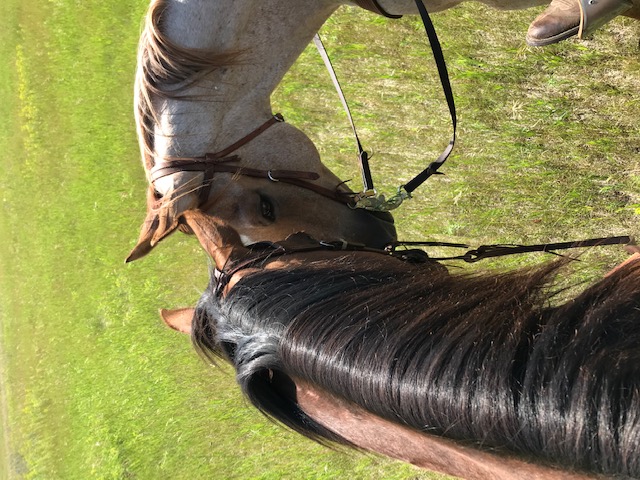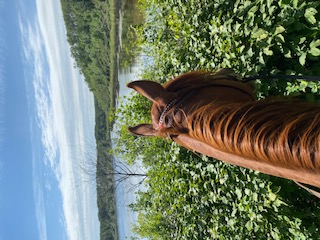 My son hauled his horse to my place so we could go Photo by Lara Schuh (August 2020) Photo by Andrea Ulrich (August 2020) riding one recent Saturday afternoon. There's really
not much better than having the opportunity to go
riding with an adult child.My horse Theo is on the left and
Todd's horse Yankee is the red roan.
Photo by Sherry Bender (August 2020)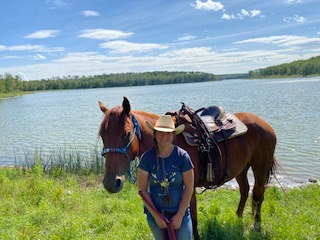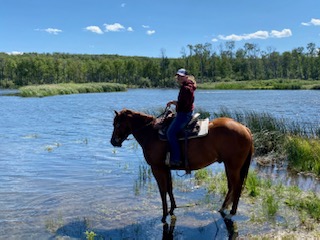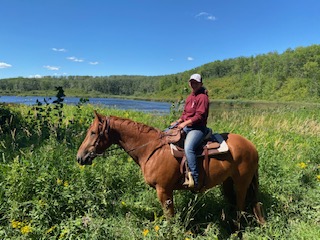 I go trail riding with my four year old horse Forrest at Moose Mountain Provincial Park. This past weekend we went on a 21km ride to Stevenson lake! It was beautiful. We stopped at Stevenson Lake for lunch and to enjoy the view.
Four photos by Andrea Ulrich (August 2020)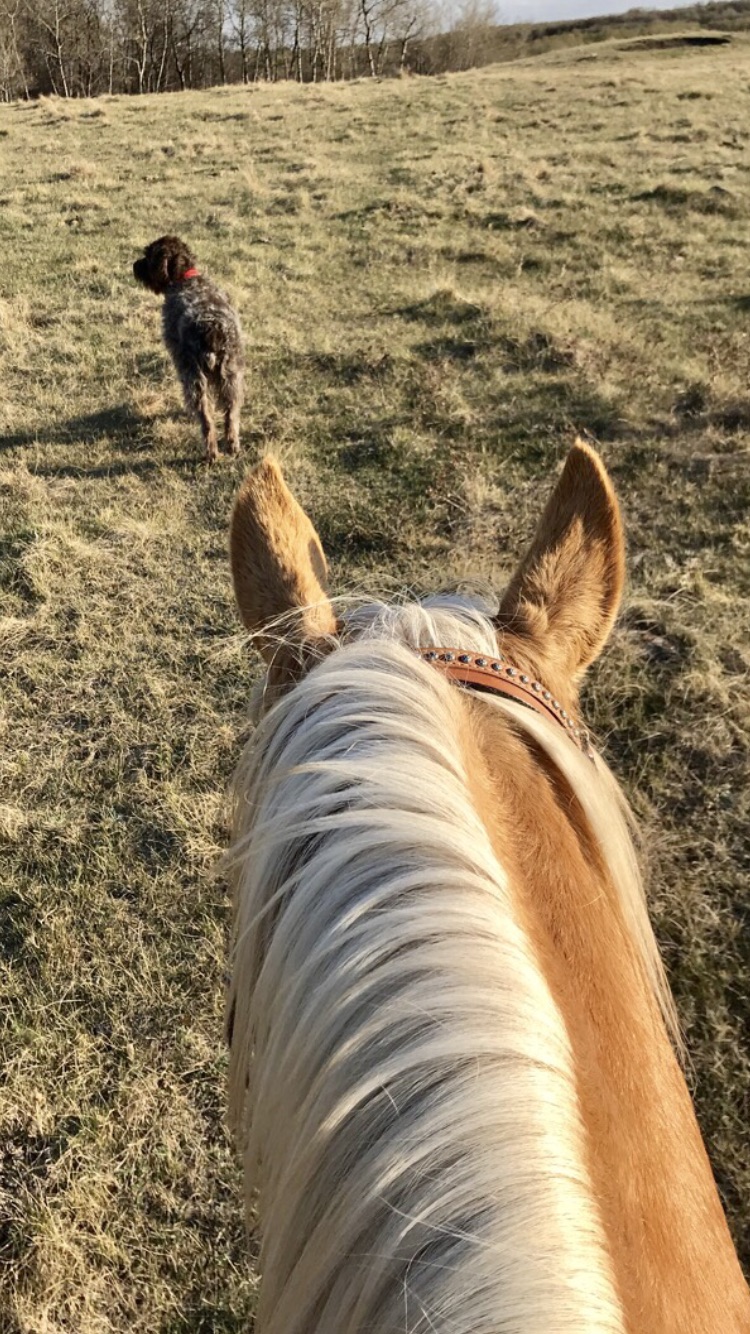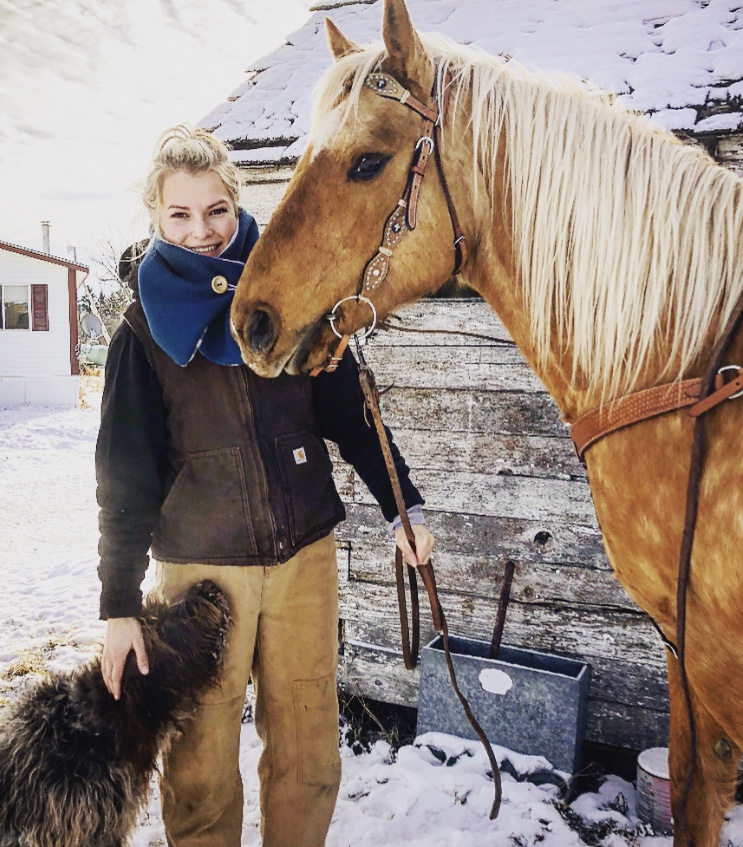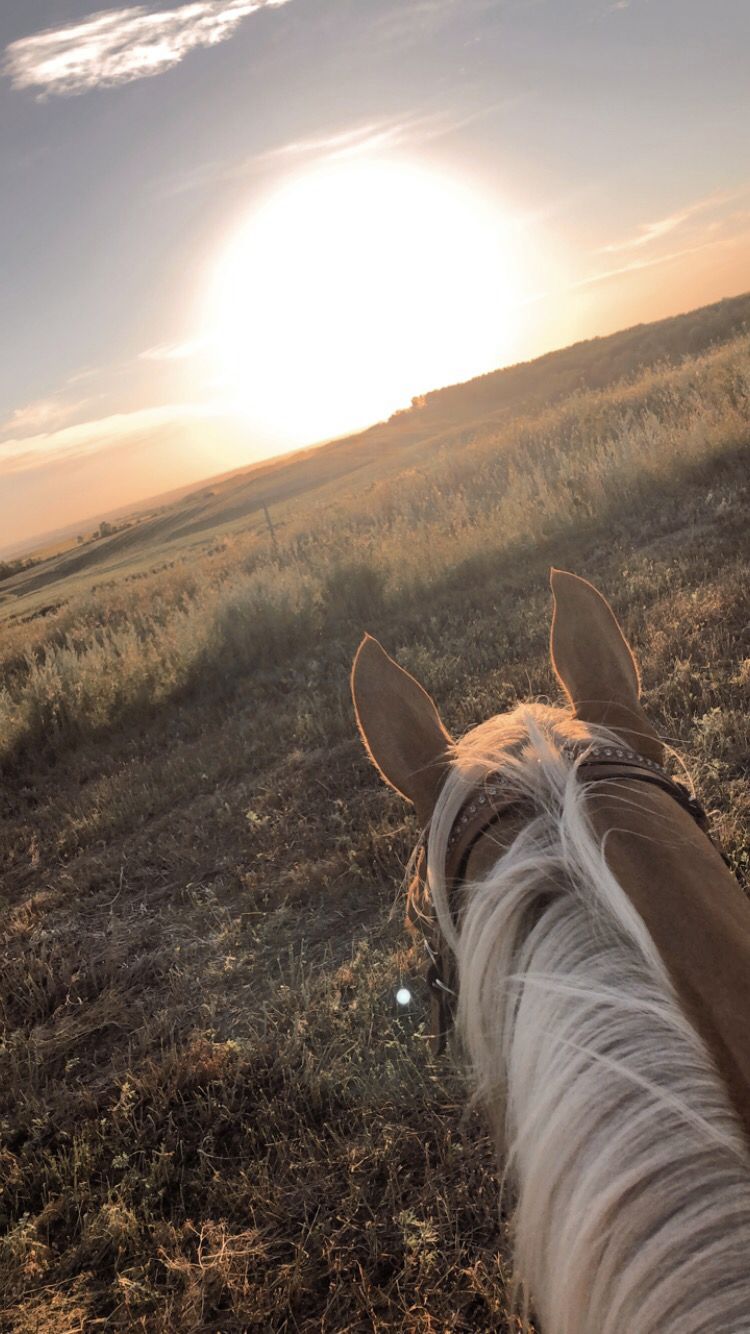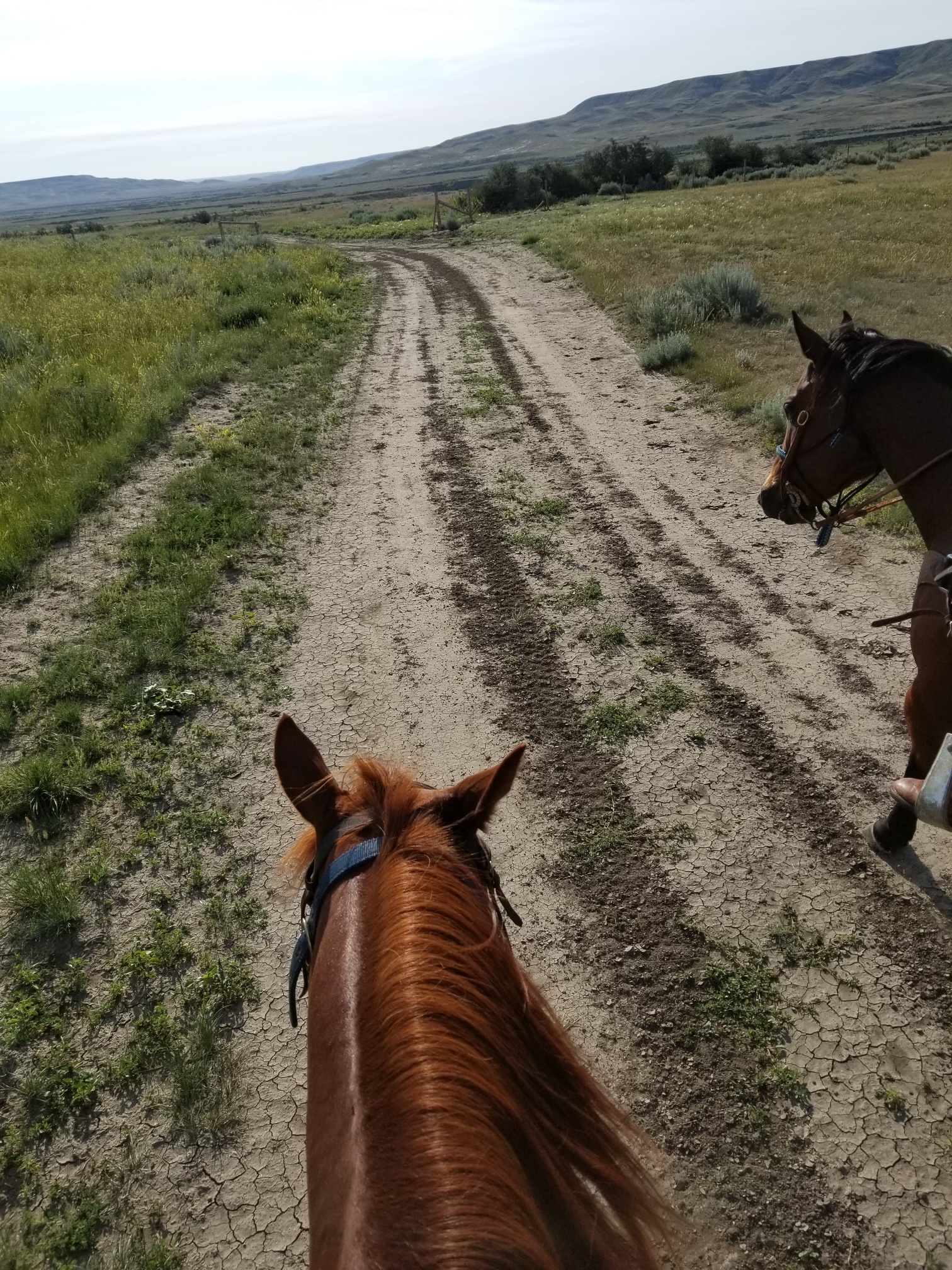 Scout,Trigger and I are all Teanna Hladun (Trigger) On a trail ride in the hay field Headed into some beautiful riding country,
bundled up and ready to hit with my golden girl Trigger. as we get an early start to beat the bugs and heat.
the wintery trails! Stopped to catch the beautiul I'm riding Charlotte and my husband is riding Bess.
sunset. Frenchmen Valley on Highway 37.
Three photos by Teanna Hladun (August 2020) Photo by Terri Carothers (August 2020)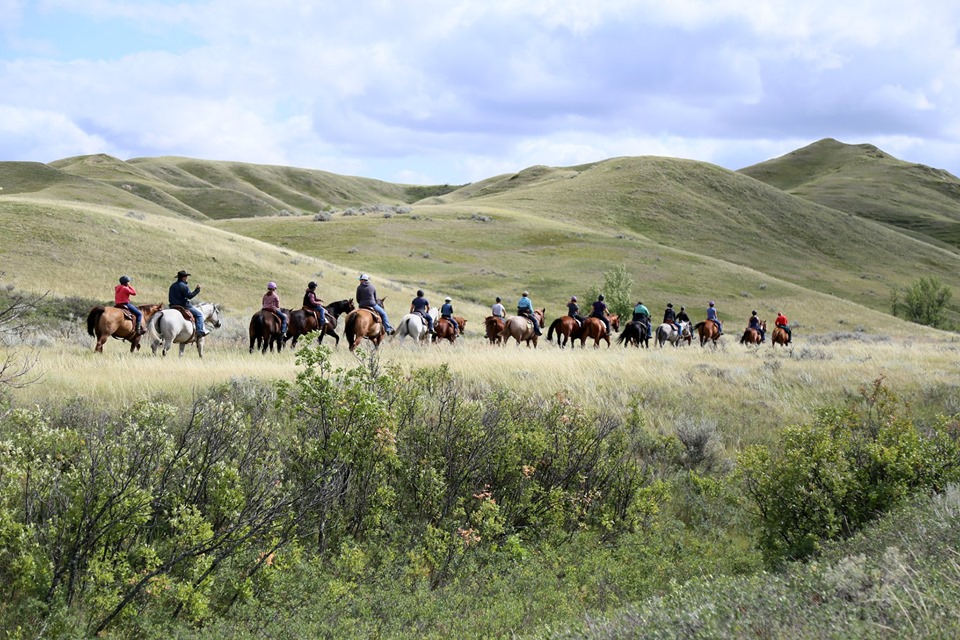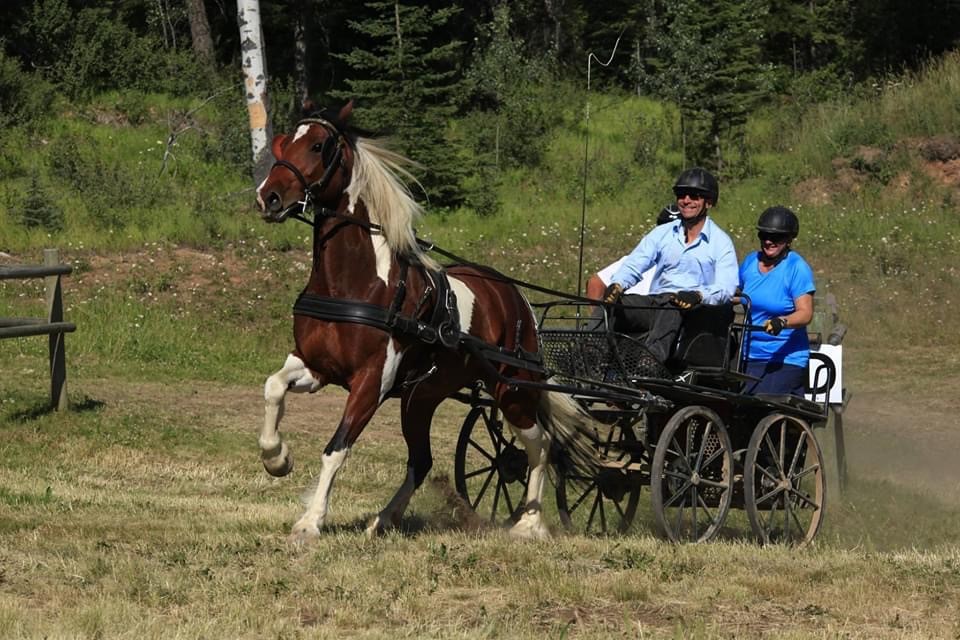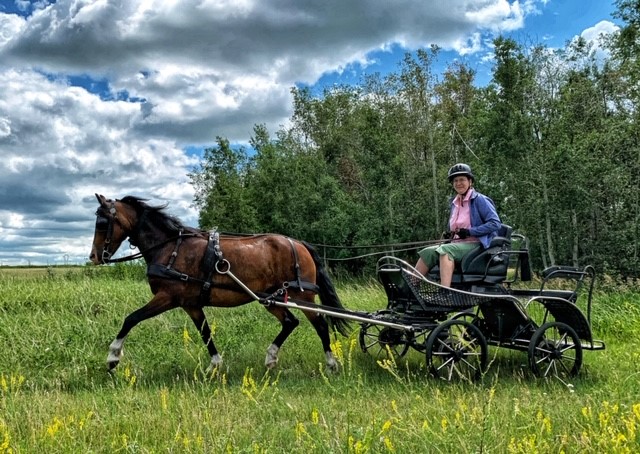 Val Marie 4-H Light Horse Club Riding Derby and Overnight
Camp out at Saskatchewan Landing


Photo by Sharon Condie (August 2020) Two photos by Stan Garchinski (August 2020)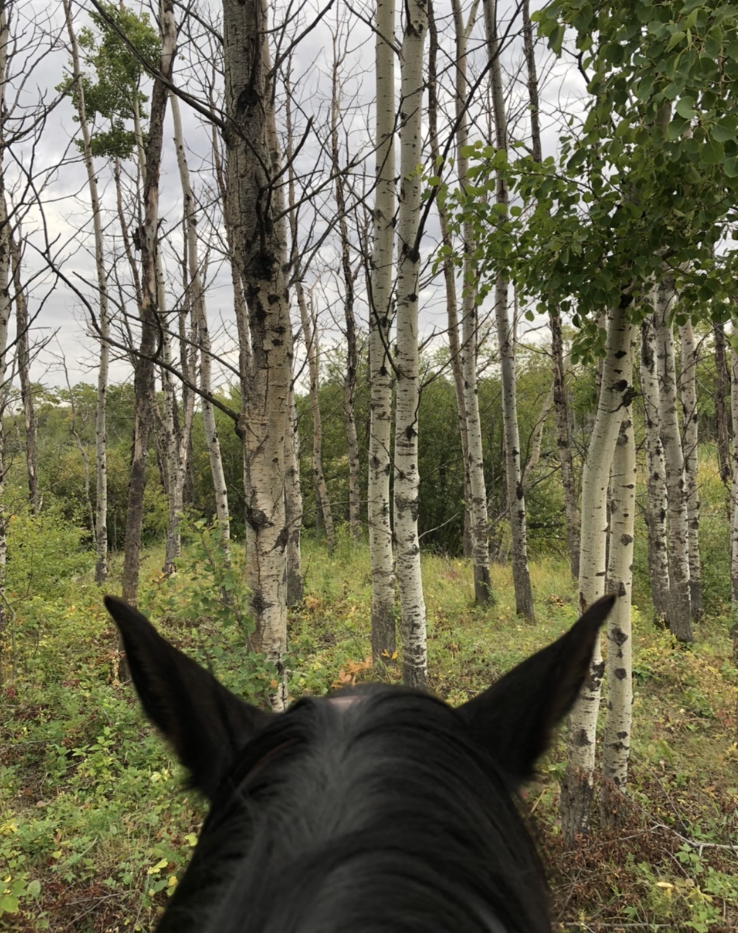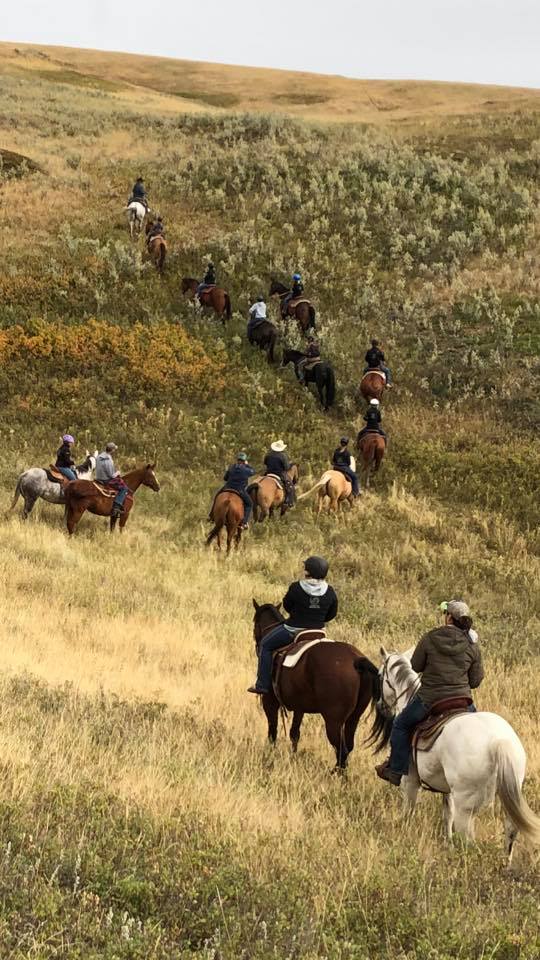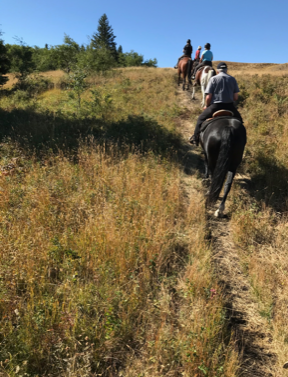 Soaking up the last bit of summer with Mac. The Val Marie Light Horse Club on Chris and A trail ride at the historic Reesor Ranch in the
Photo by Jacquie Kowalski (September) Charla Achter's ranch during our Sept 13th the Cypress Hills.
4-H Riding Derby Photo by Laurae Klassen (September)
Photo by Jamee Dixon Coupe (September)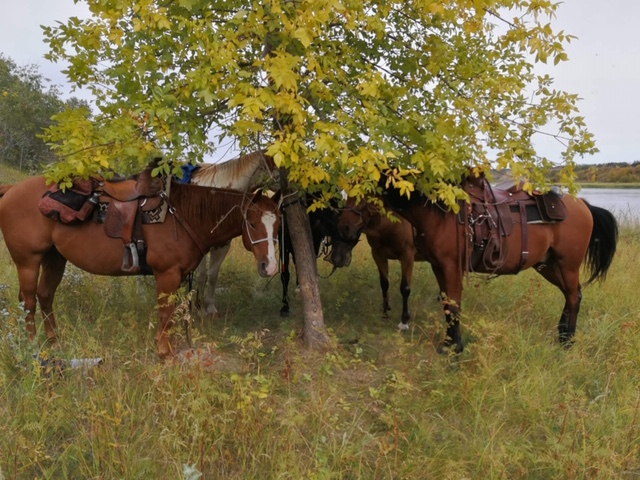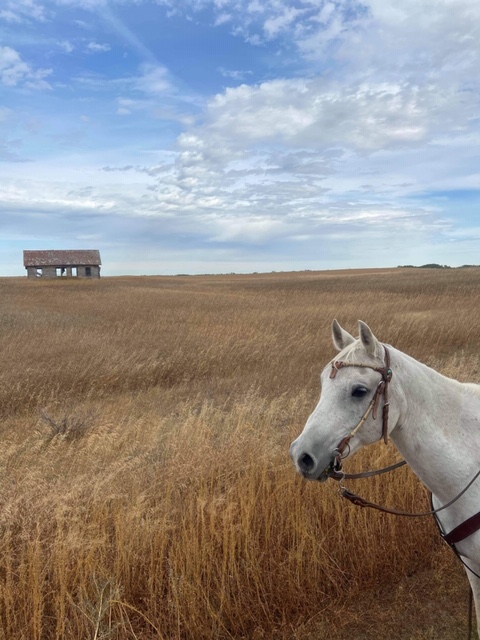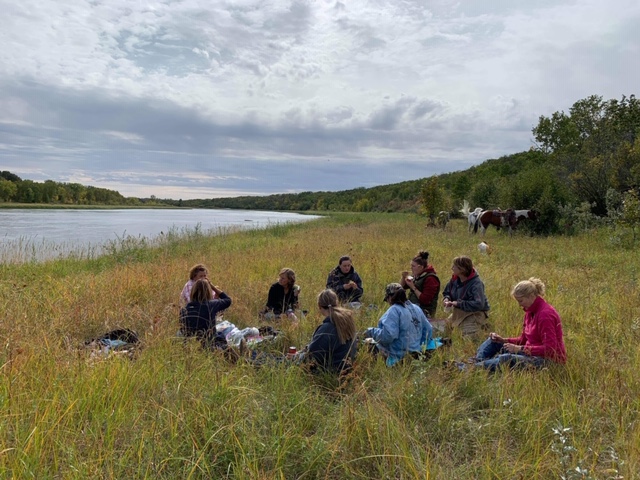 Four photo by Loretta Hrenyk (September)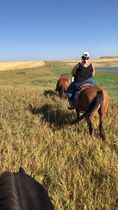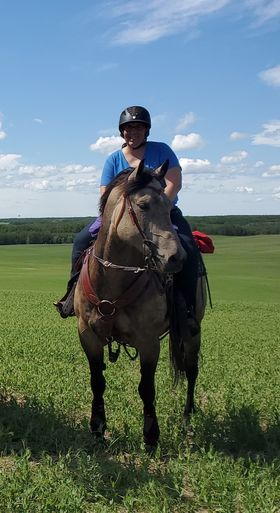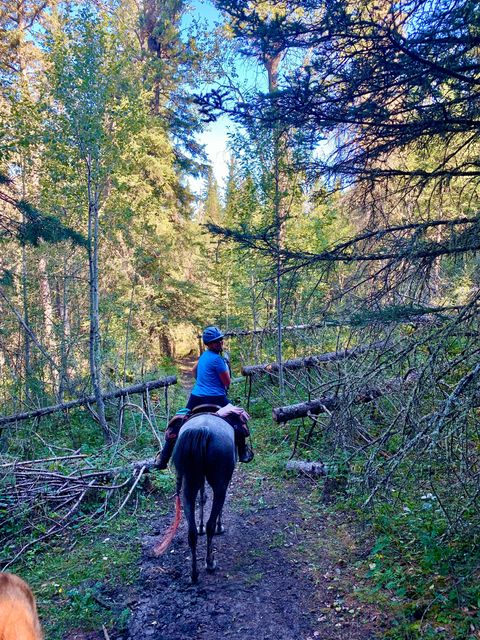 Photo by Shaeden Skiehar Photo by Diane Ace (September) Photos by Tammy Lee Mooney (September)
(September)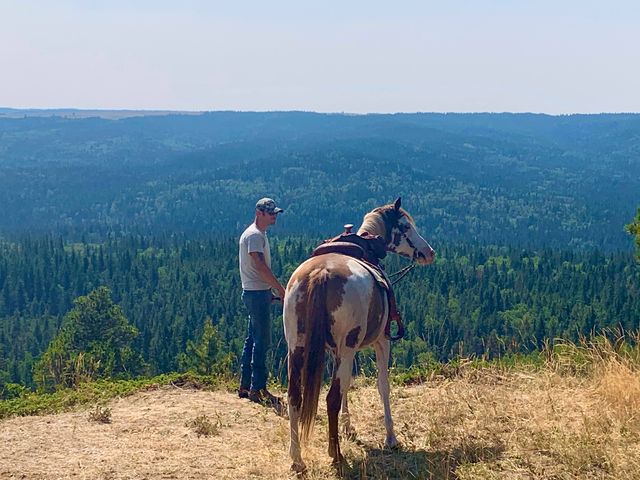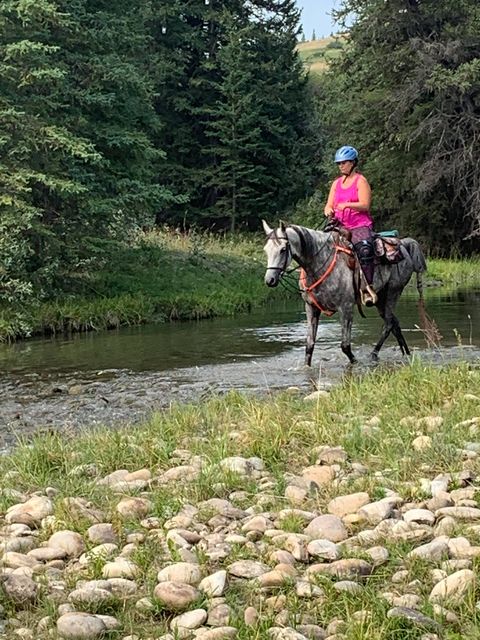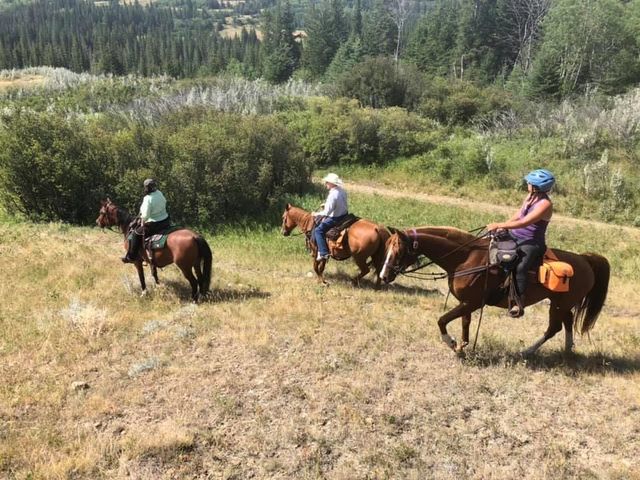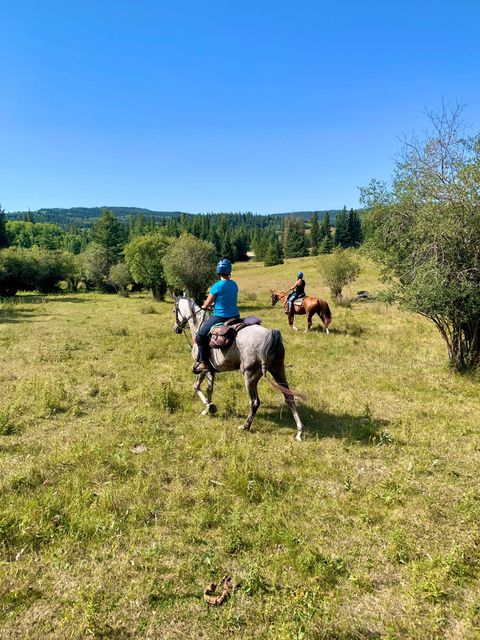 Riding in the Cypress Hills ... and riding beautiful trails at Kenosee Lake
Photos by Tammy Lee Mooney (September)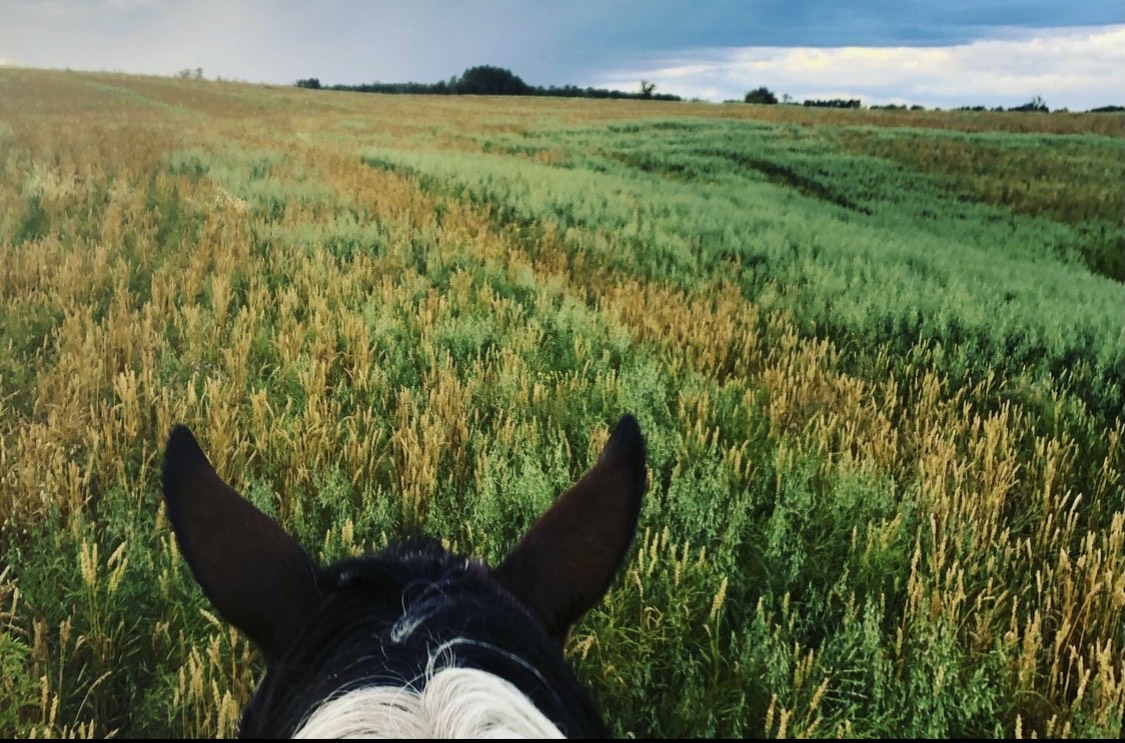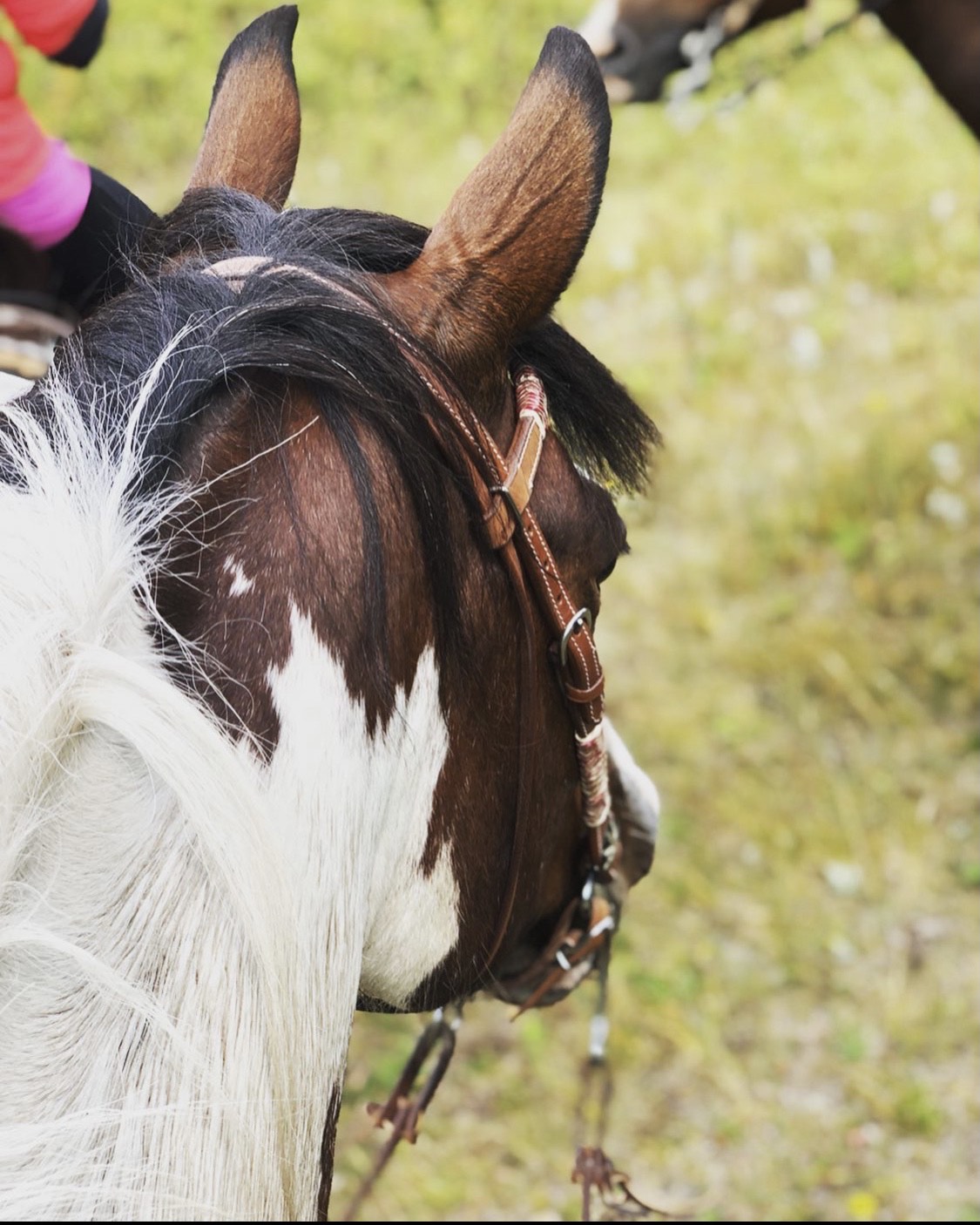 My trusty trail partner
Three photos by Kennady Mario (October)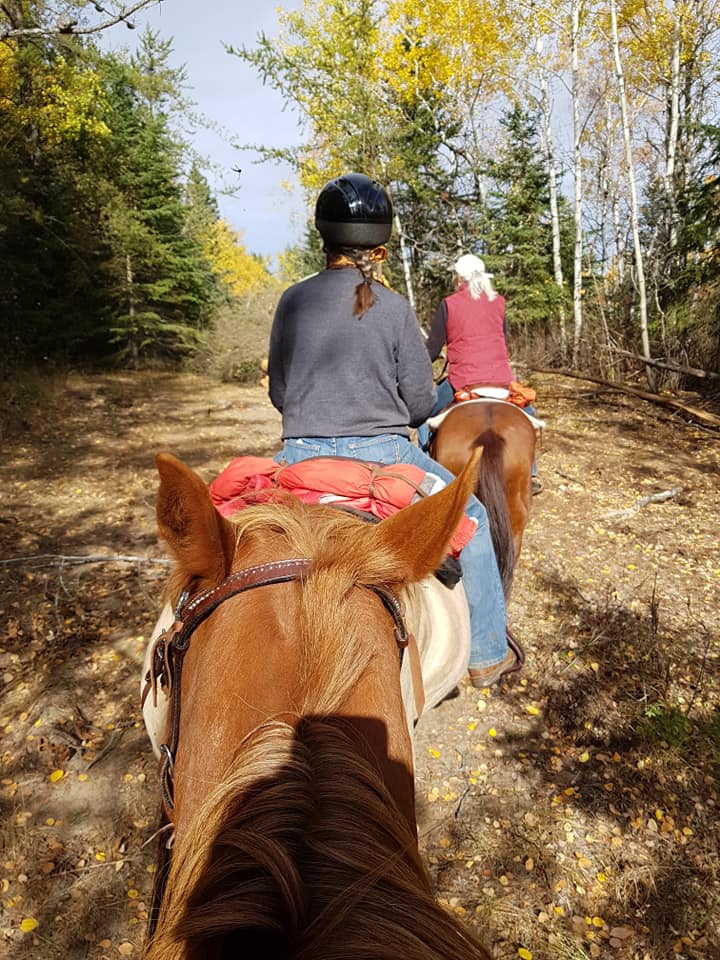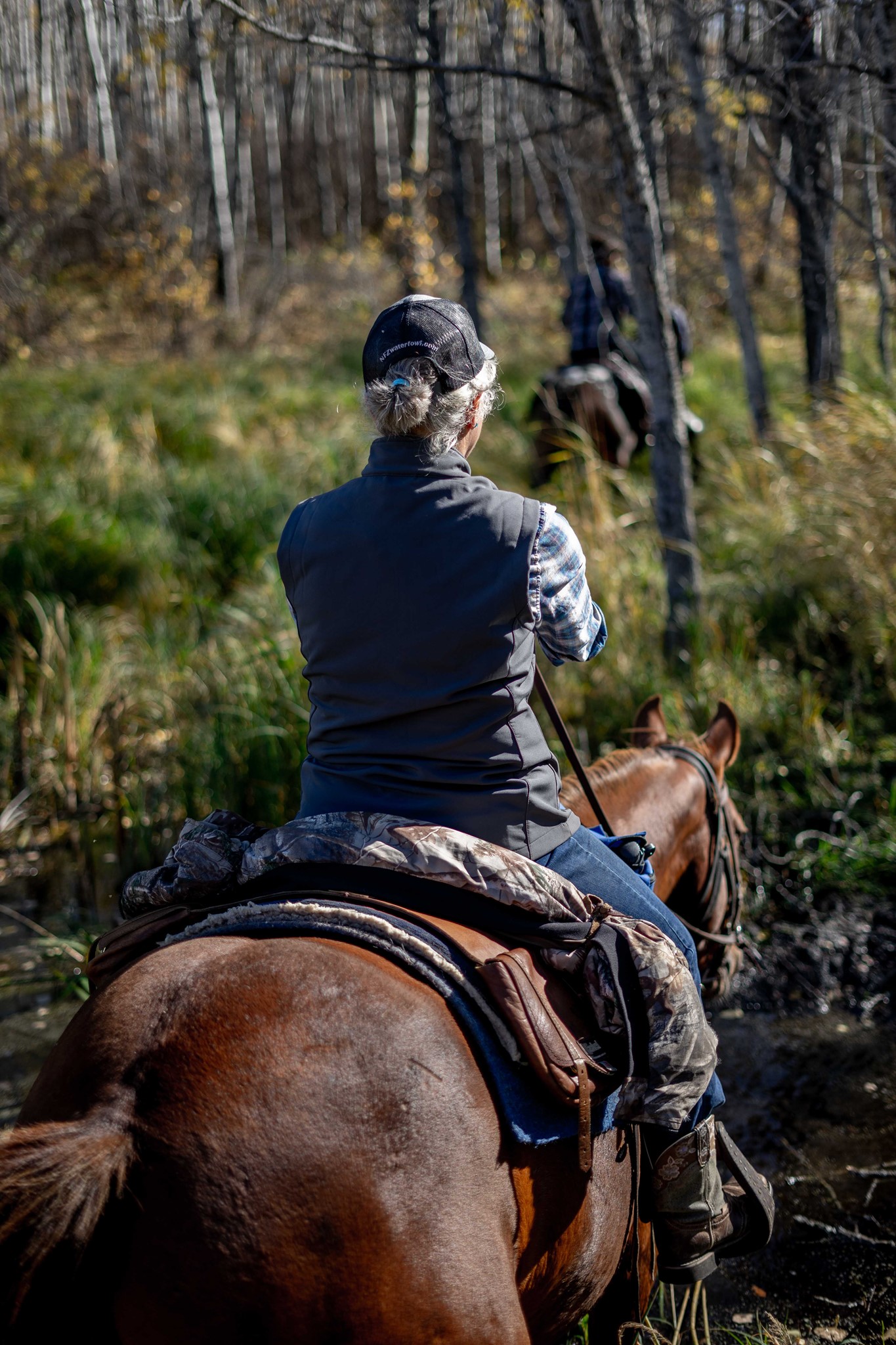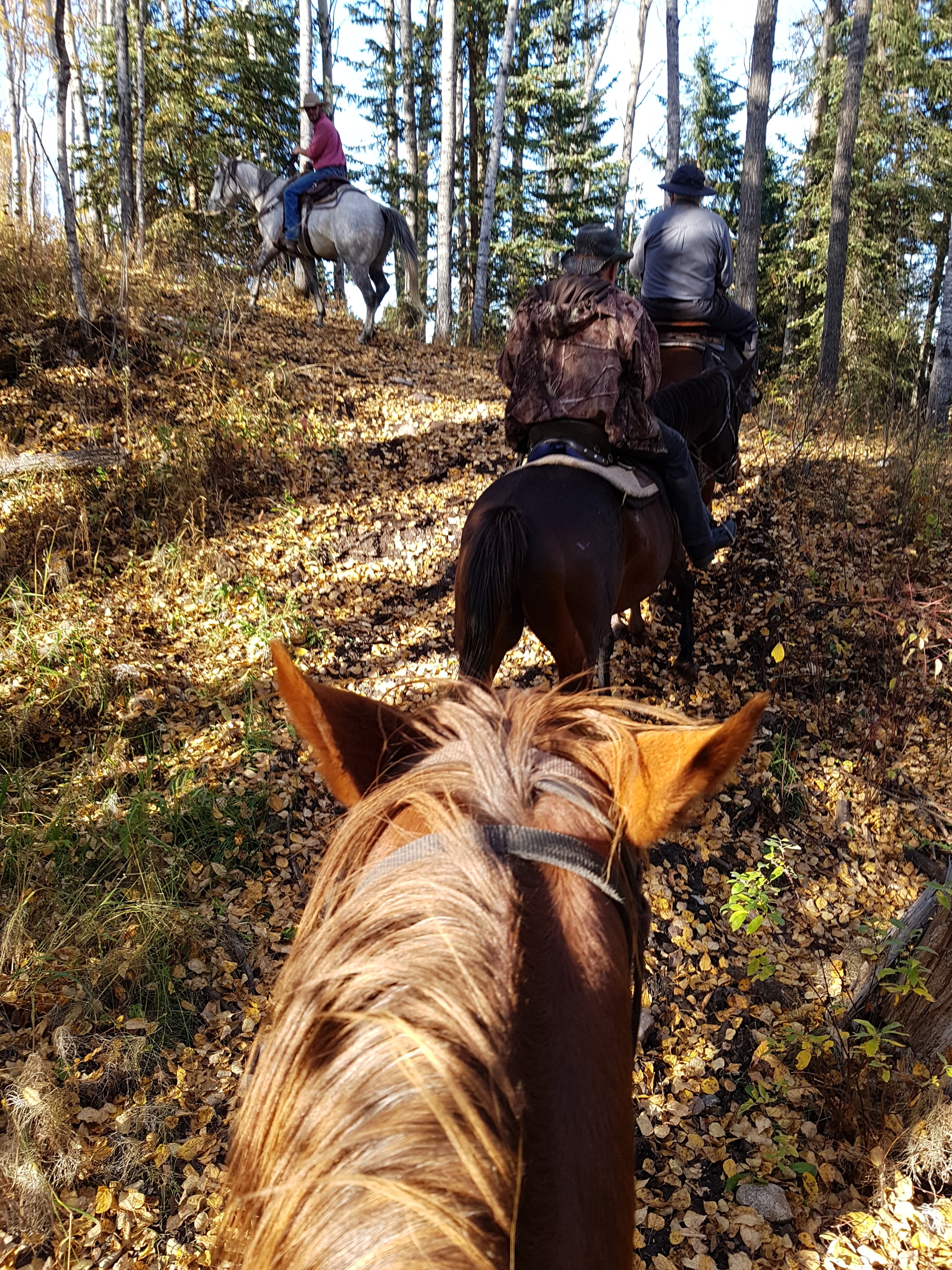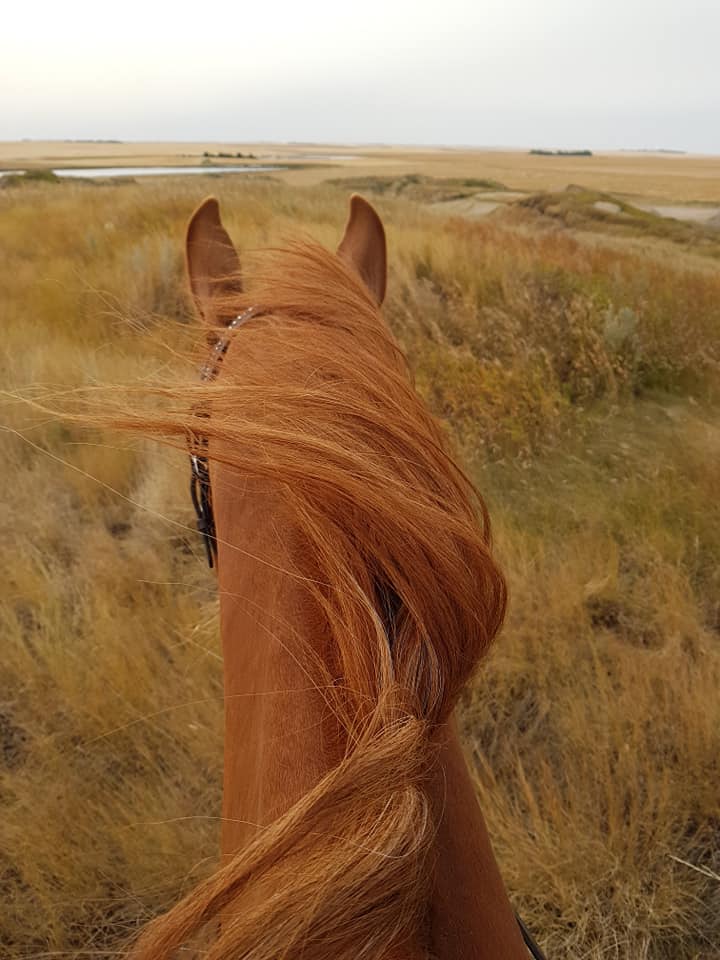 Riding near Shellbrook Trail riding at Sturgeon River Ranch, bordering the Prince Albert National Park Riding with King near Tramping Lake
Four Photos by Tina Elliot (October)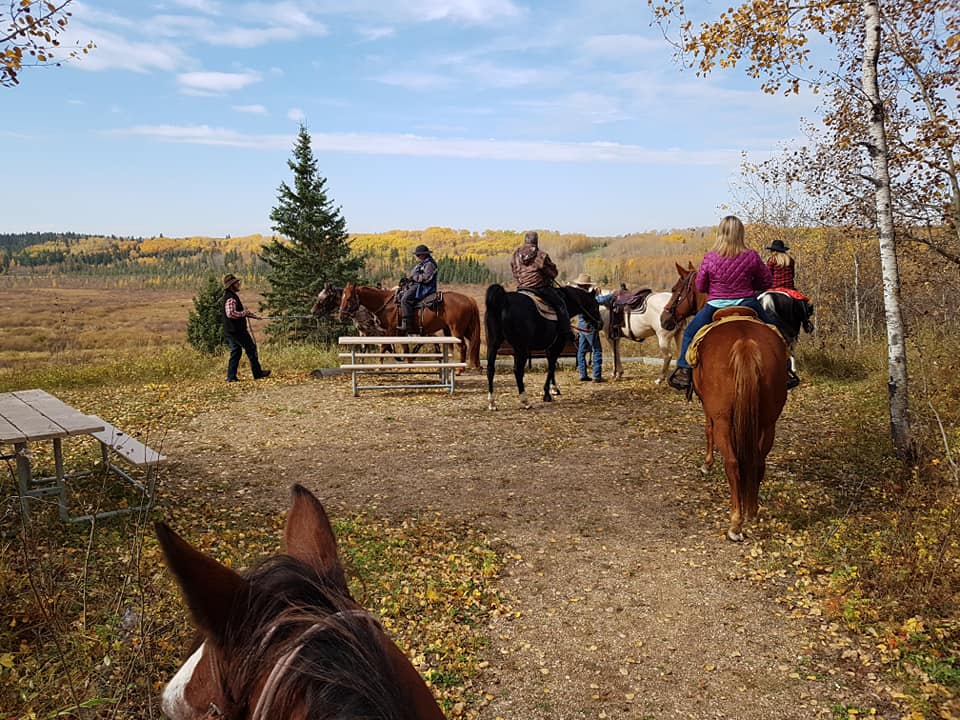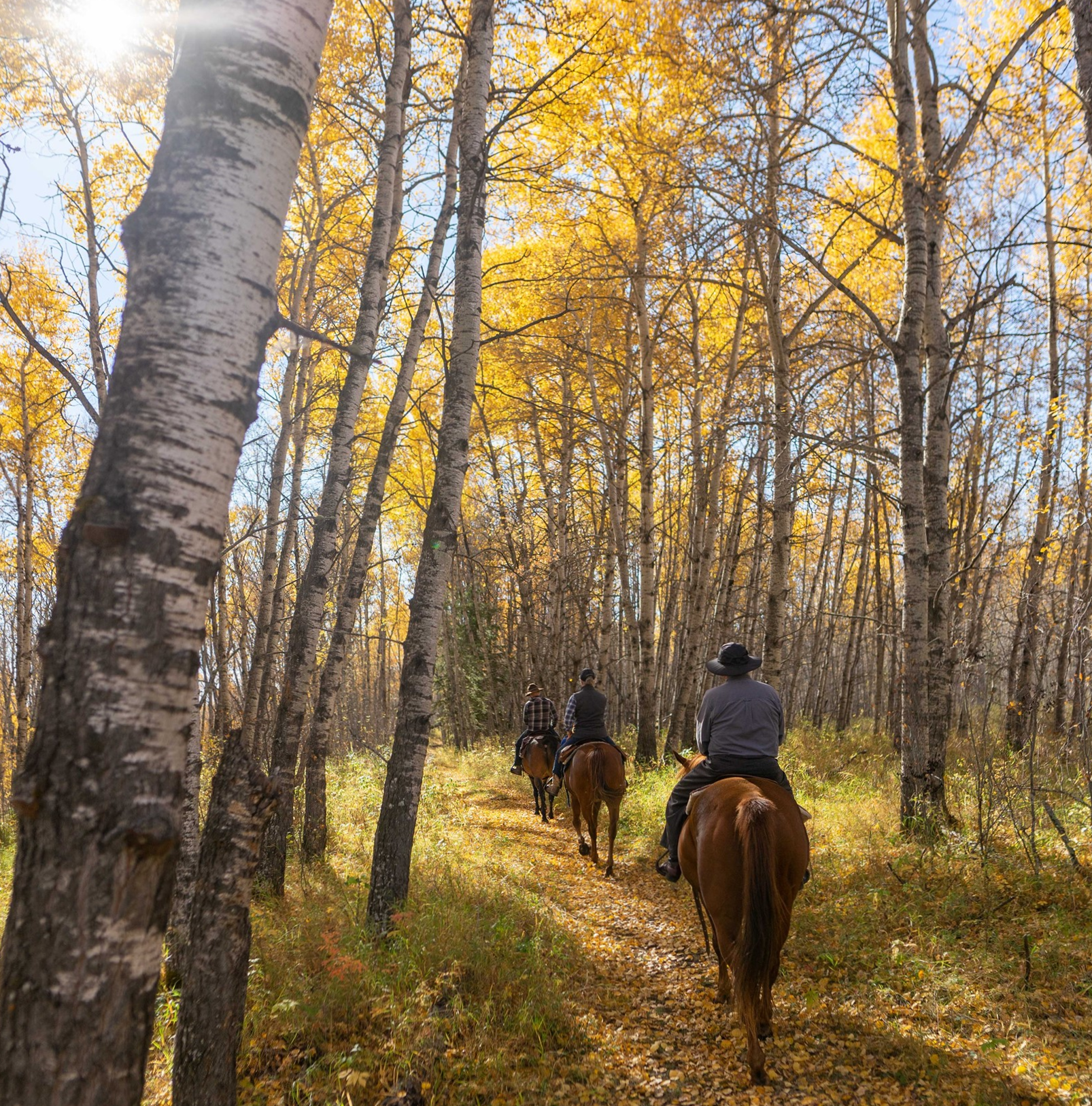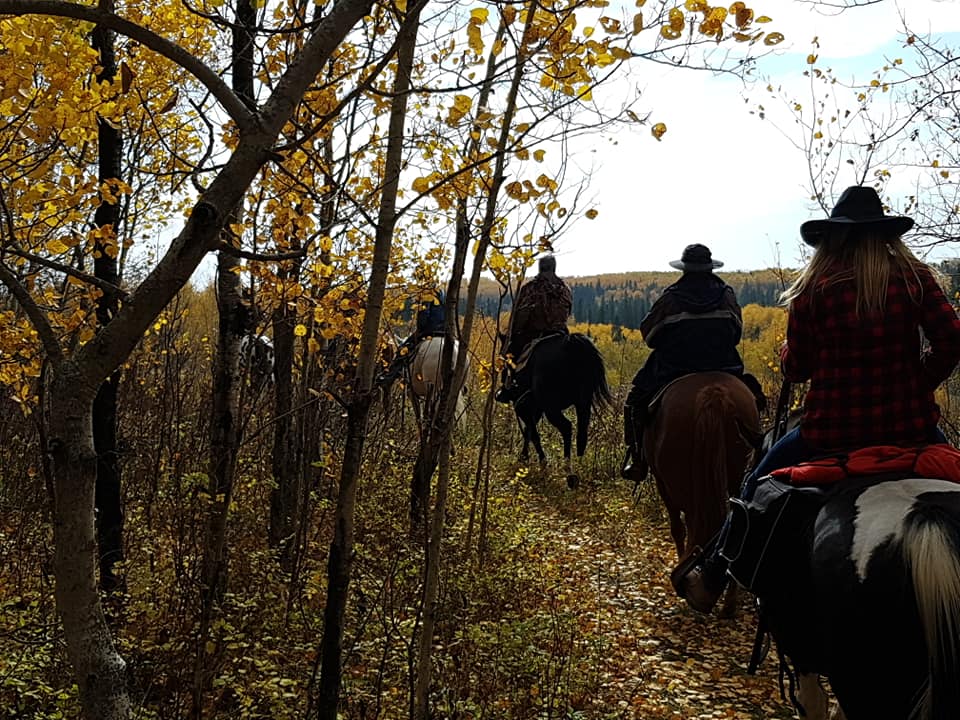 Trail riding at Sturgeon River Ranch, bordering the Prince Albert National Park
Three photos by Tina Elliot (October)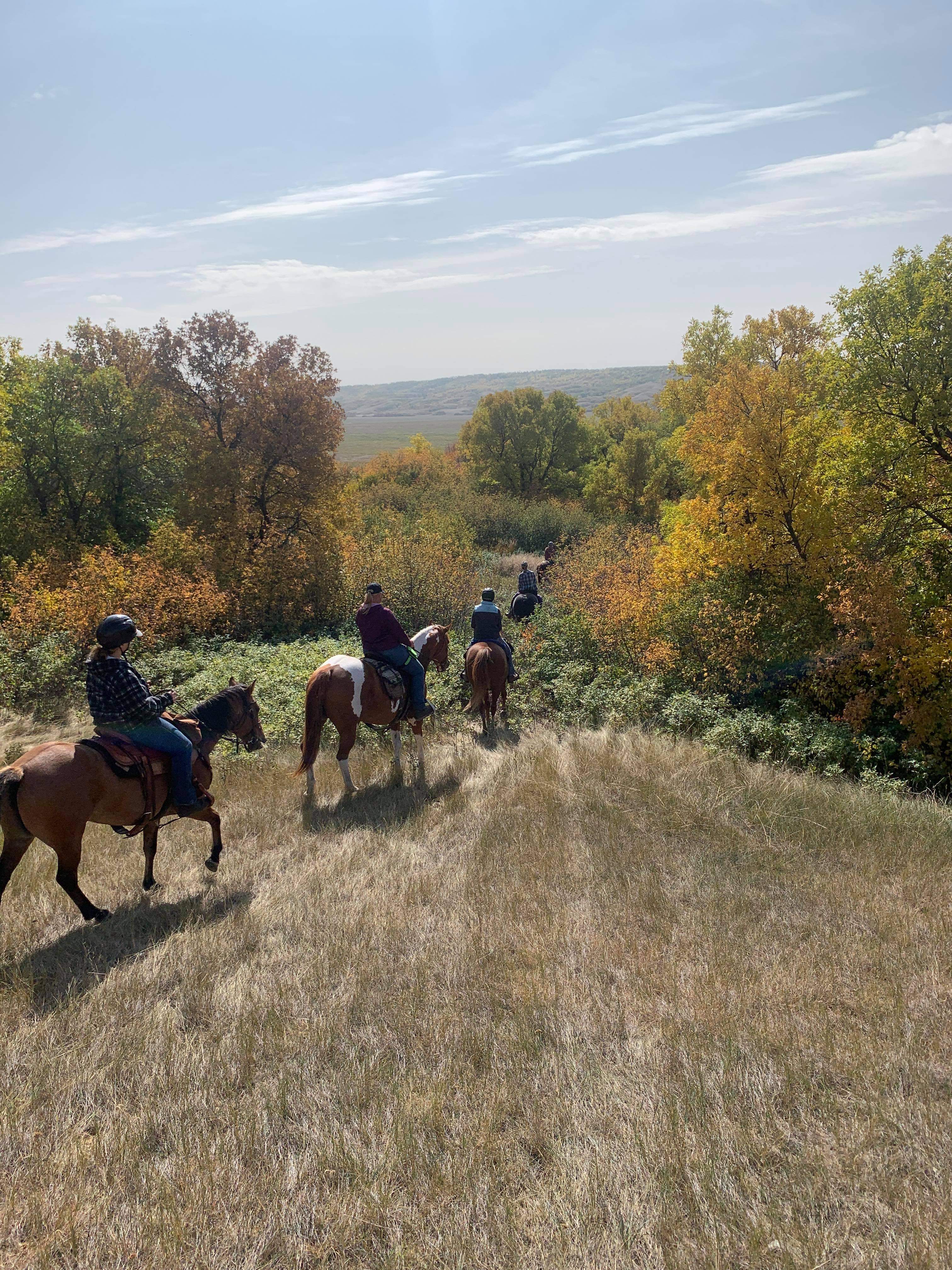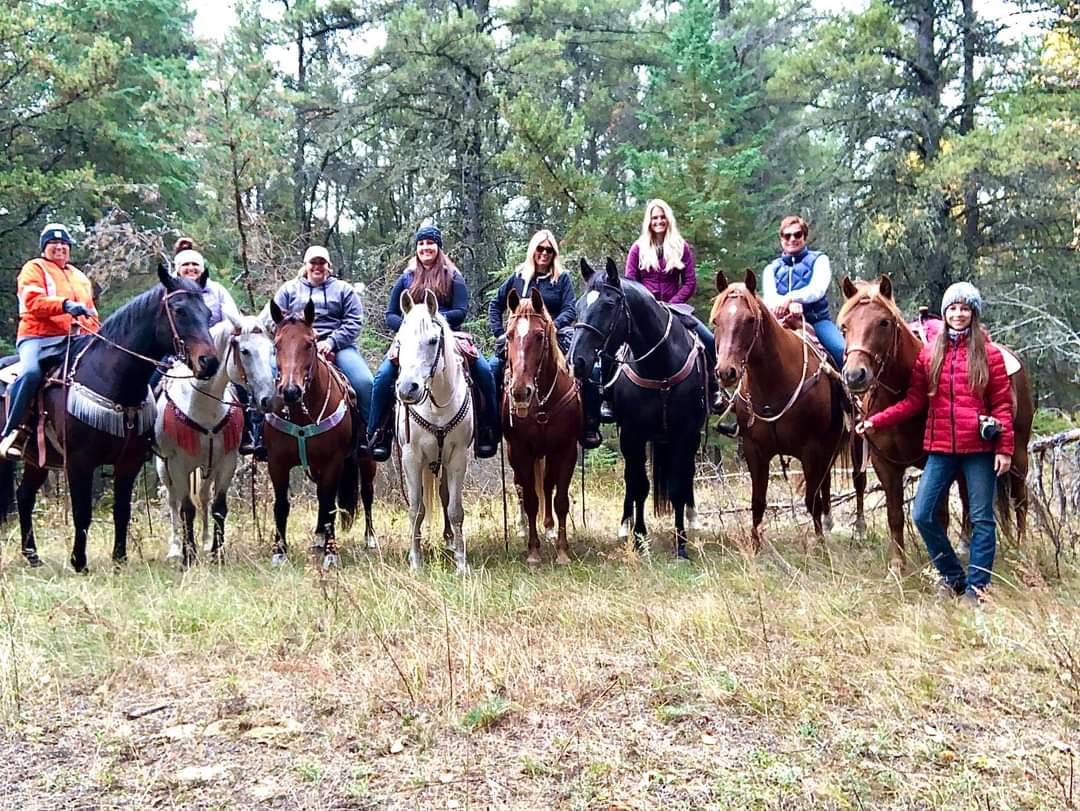 Amanda Hodges with my horse Bud! It was such a beautiful day in the valley. An amazing ride in Eb's Trails in the Nesbitt Forest near Duck Lake, SK. We
I'm a new rider, and trusty Bud takes care of me, We climbed some pretty big hills. call our group "never beetles, always fearless". I'm riding Jango (second white
as we often ride alone. ❤️ My horse "Mischief" and I are in the back. horse from the left).
We ride this gorgeous trail a couple times a week. It was our first time encountering hills that size.
It's in the Nisbet forest, North of Prince Albert. She truly surprised me. We're a good team.
Photo by Amanda Hodges (October) Photo by Amanda Saunders Photo by Brittany Hoffman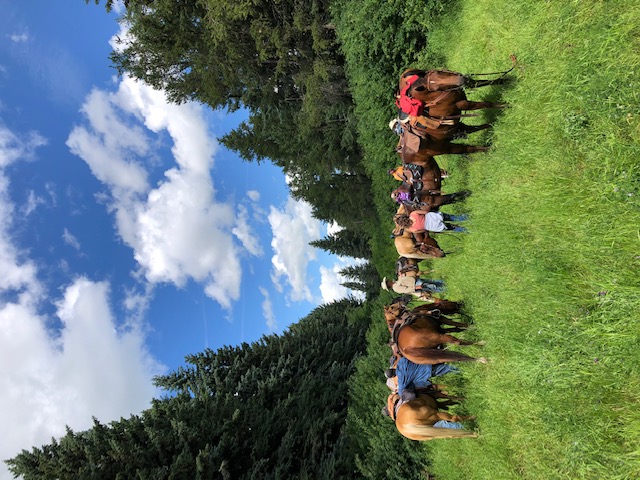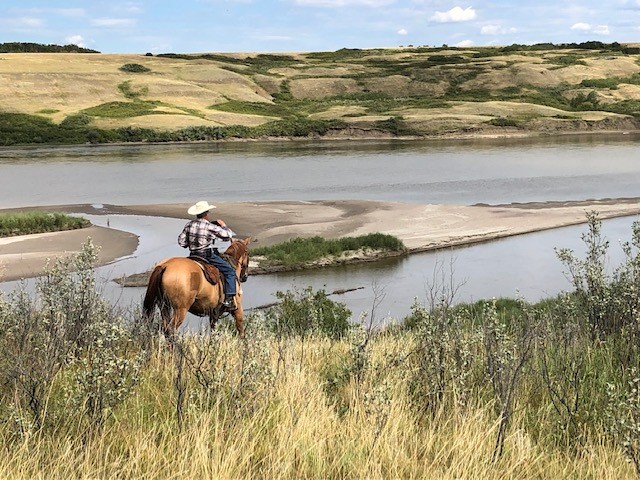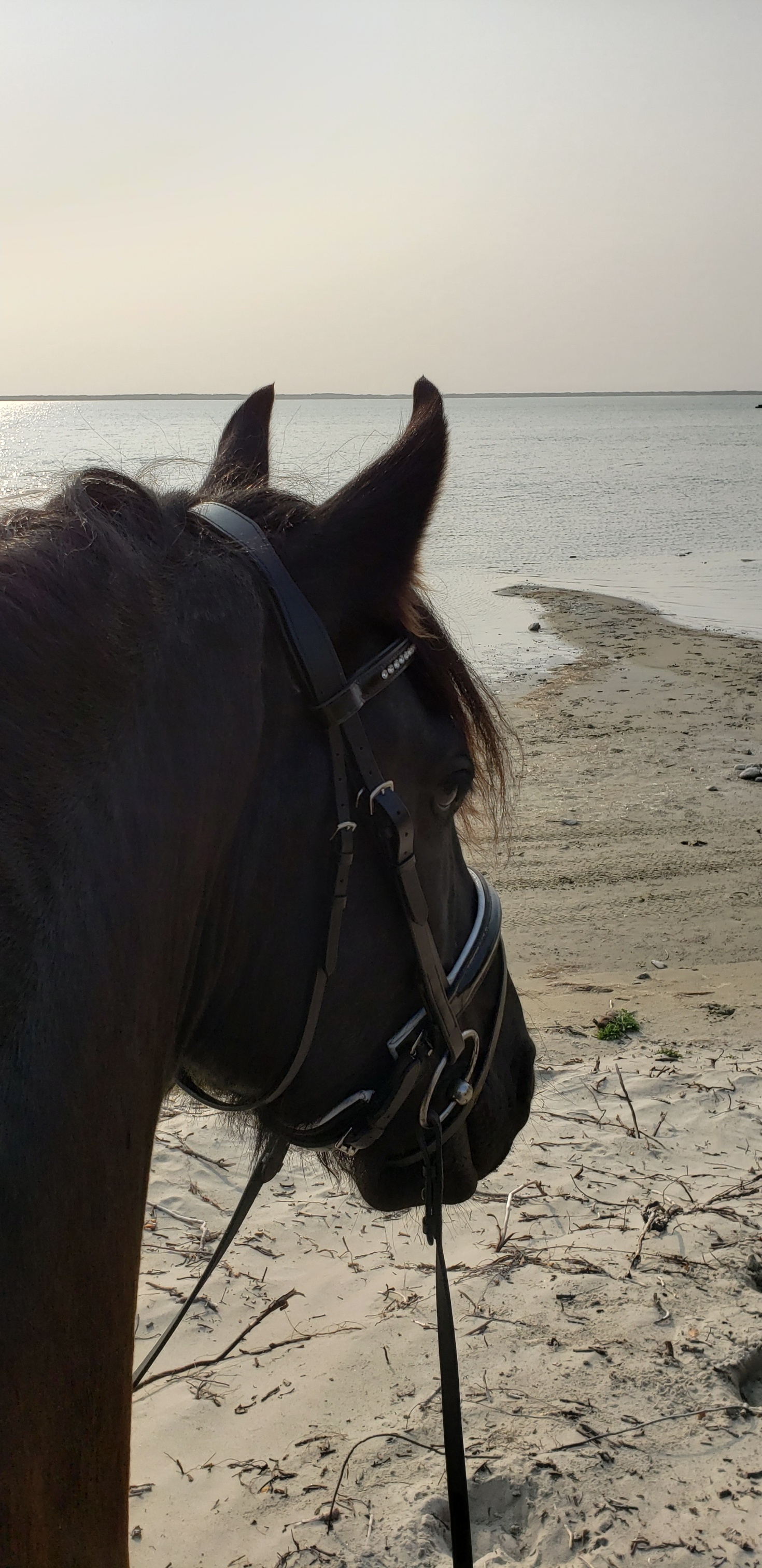 Taking a break. Adventure through ducks Trail boss. Admiring the view. Riding the Sasktrail
unlimited land south of Battleford. between Battleford and Maymont.
Stunning scenery with amazing history.
Photo by Colleen Gabruch Photo by Colleen Gabruch Photo by Colleen Beres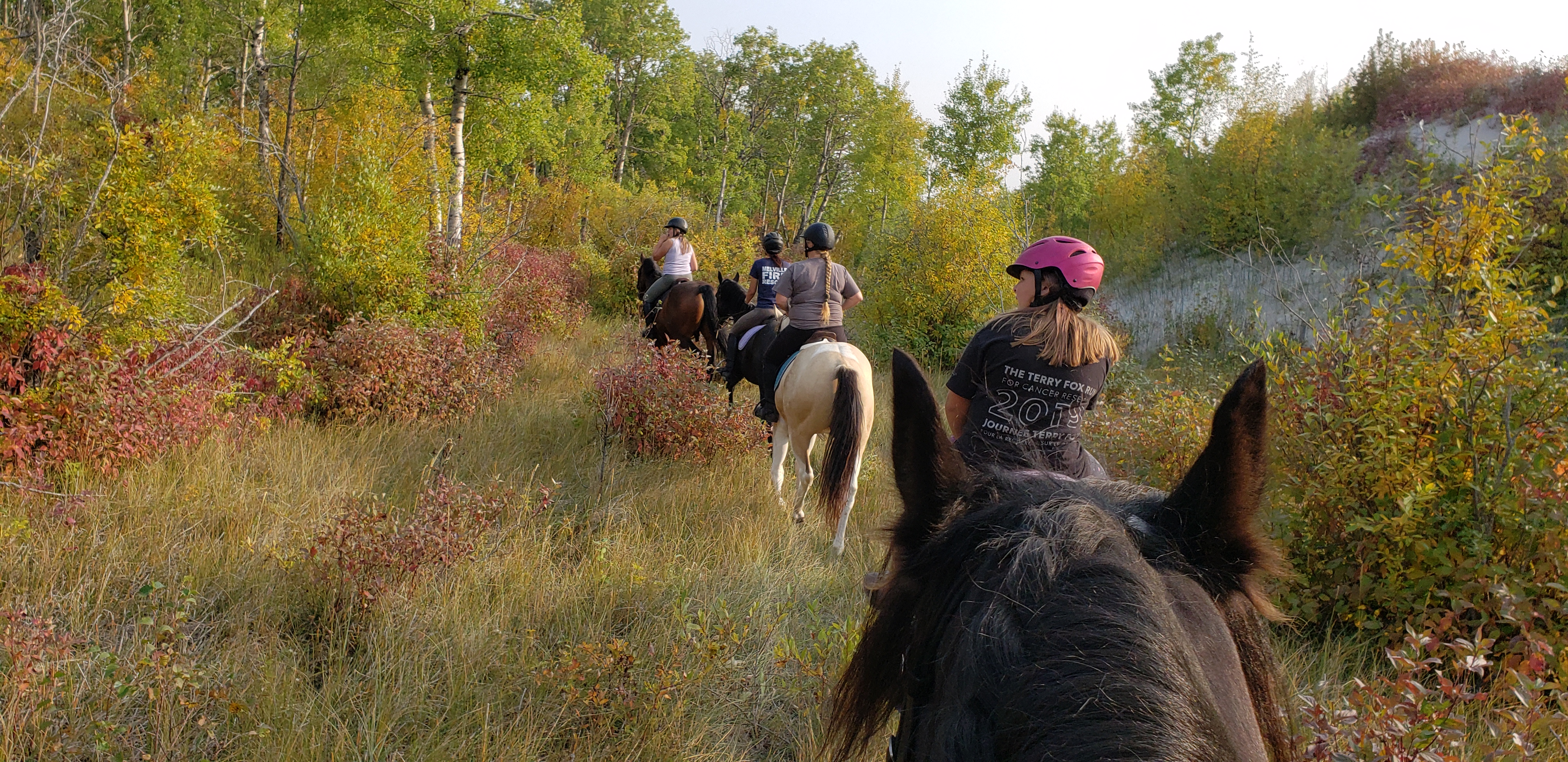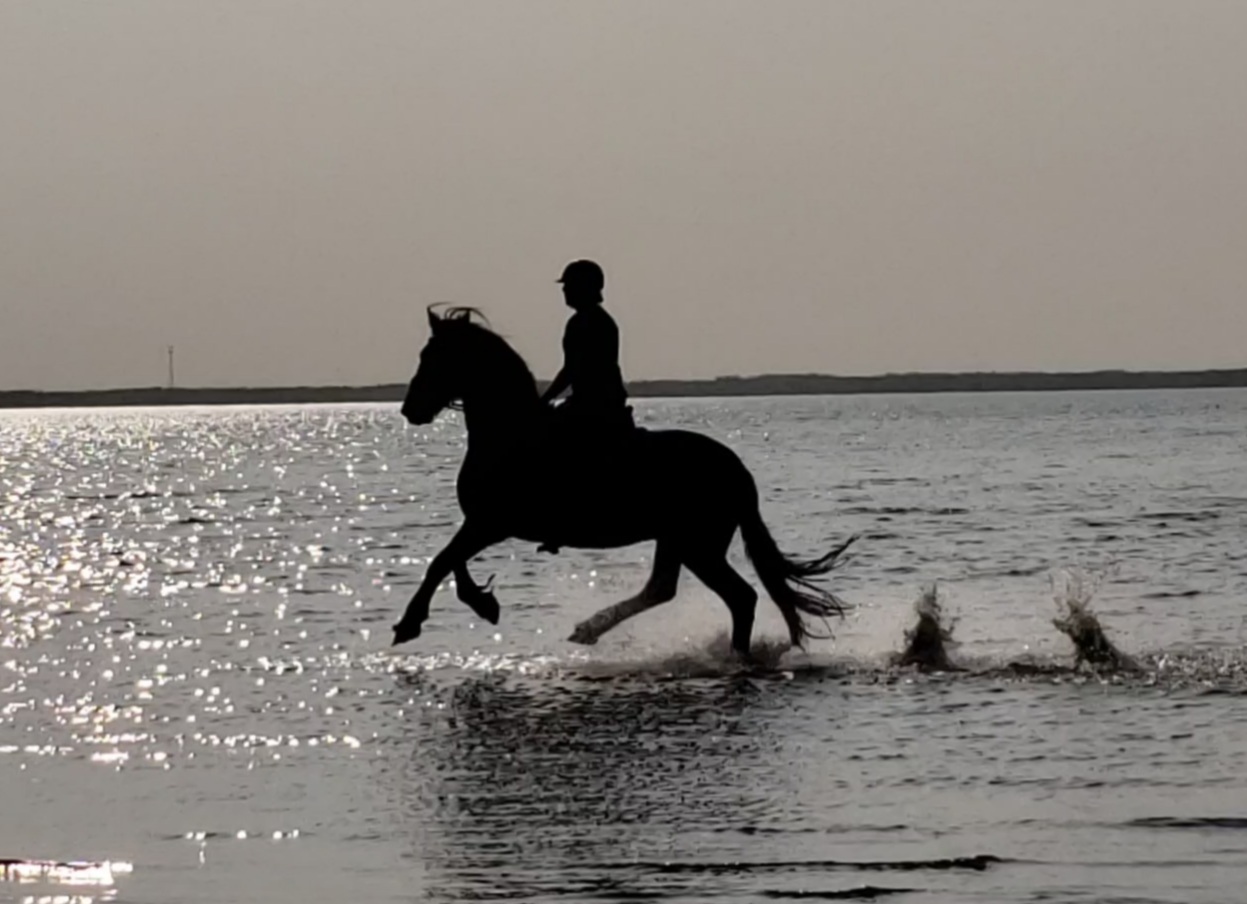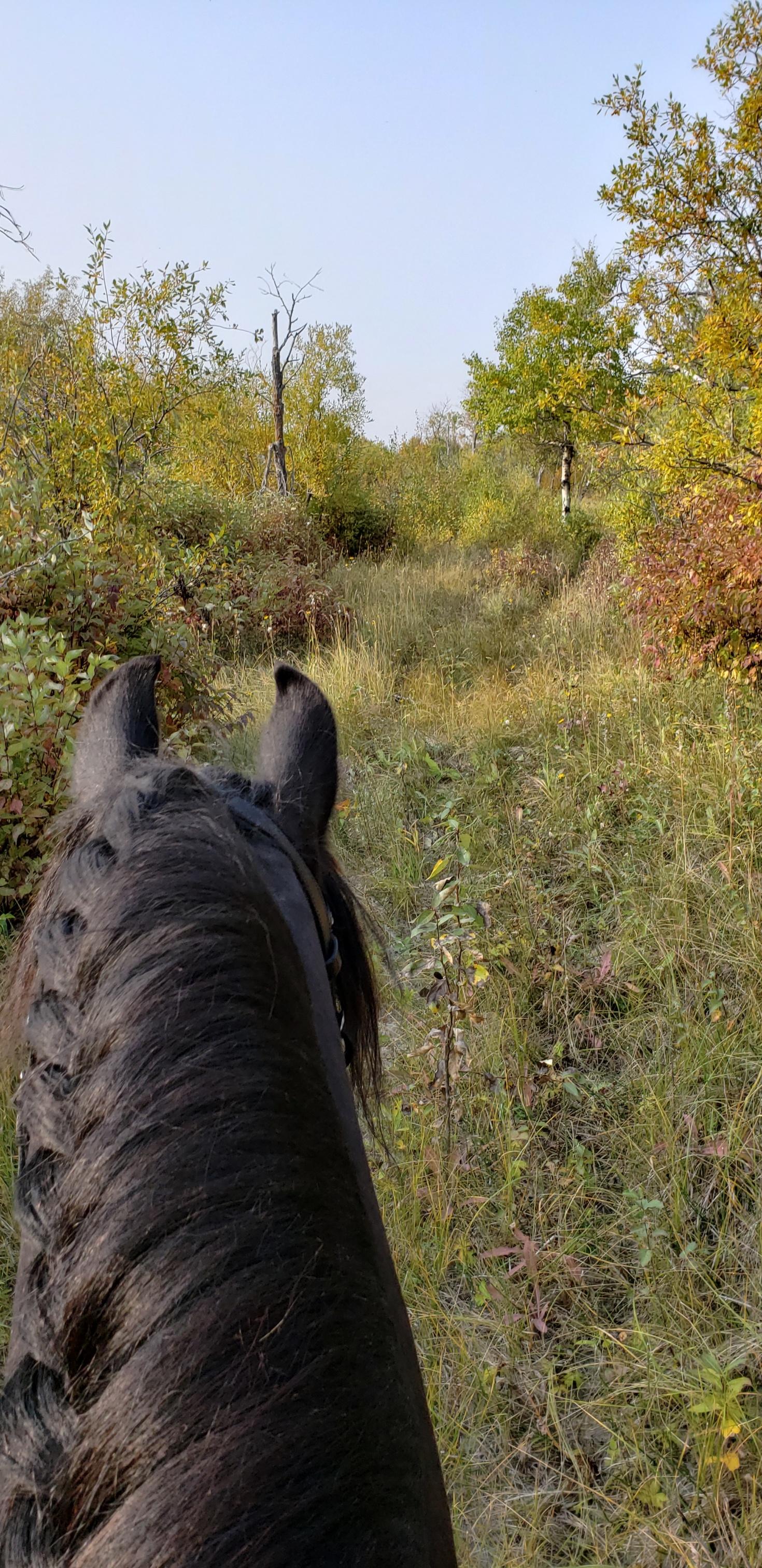 Trail ride around Good Spirit Lake with Boke. The colorful scenery was beautiful. None of us had ridden in a lake before. It was so much fun.
There photos by Colleen Beres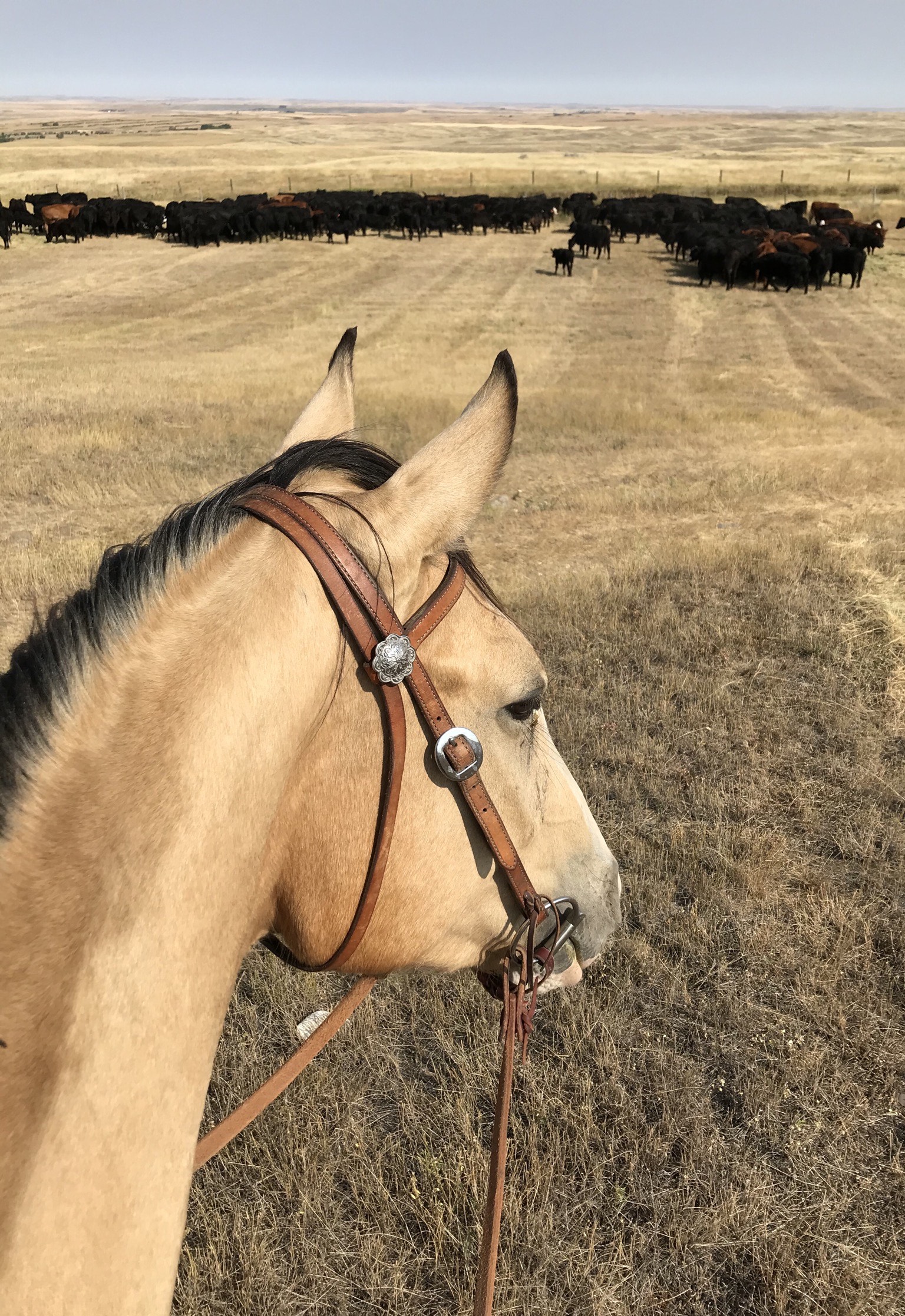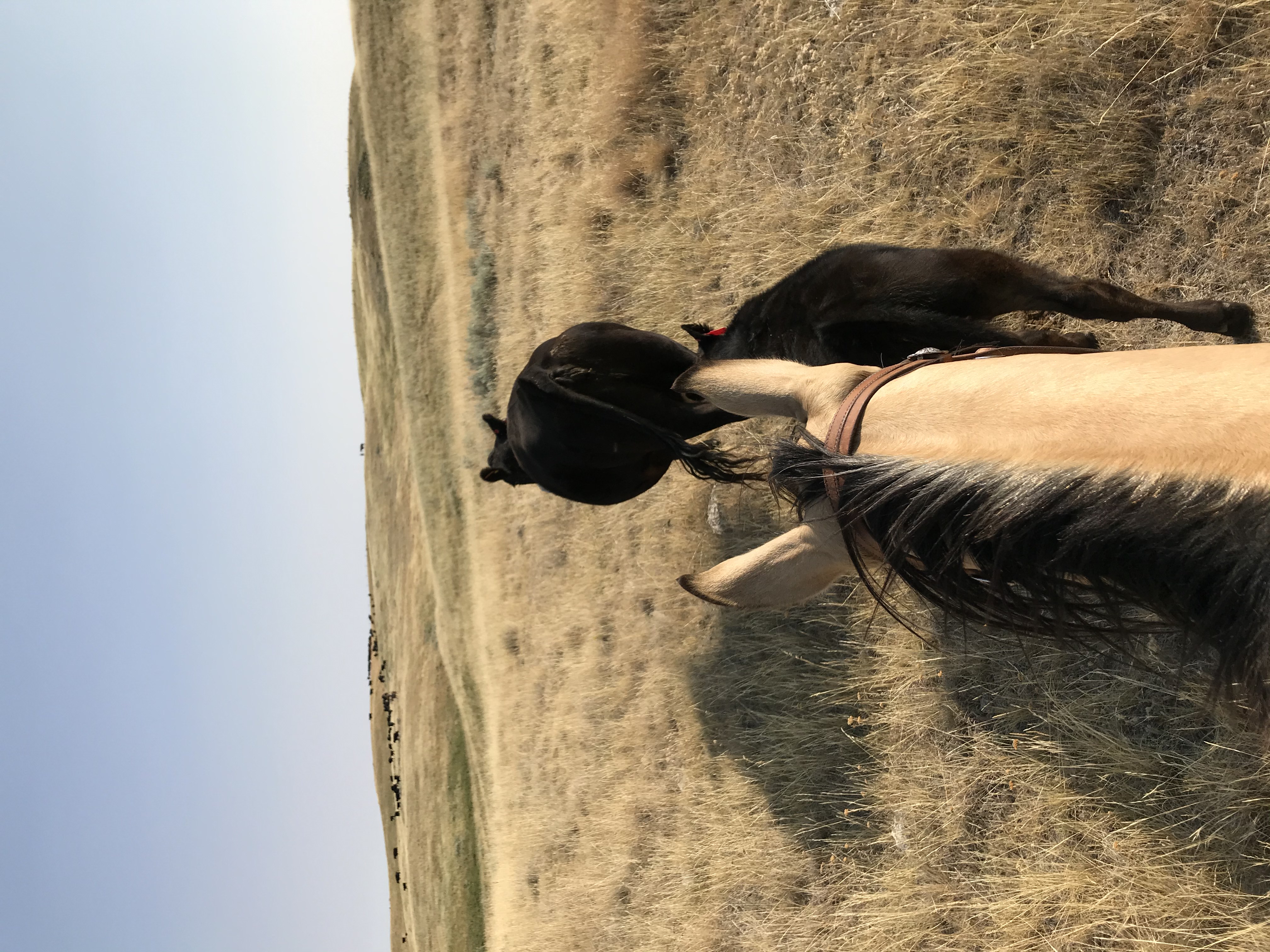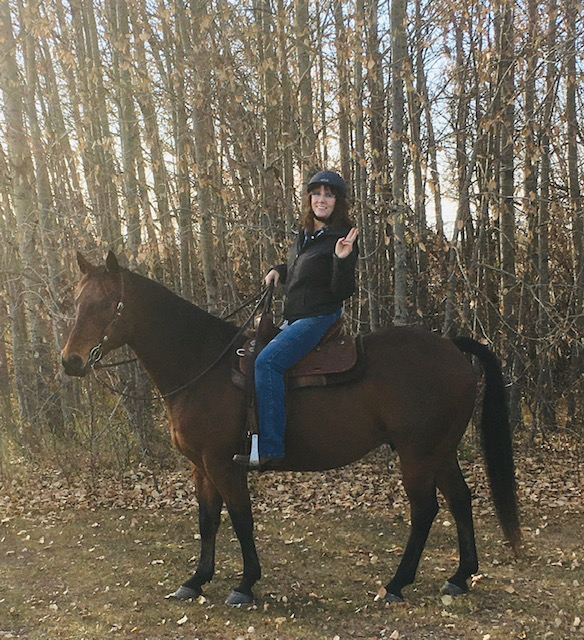 My first trip out into the southwestern Saskatchewan hills to move cattle with Leo Shining Max (Drifter). I didn't think I'd be able to enter the photo contest as I hadn't ridden all
We had a great morning gathering and moving cattle, and enjoying the scenery. summer... 2020 has been a rough year, starting with the loss of my horse...
but I'm blessed to have friends who helped me find my way back I had
many many offers to ride this summer but my heart was broken. After
much encouragement, my friend, knowing that I needed to do this even
though I didn't want to, got me back on a horse. You can see by the smile
on my face, my friend was right. This is me (Edie Koski) and her horse
Mr. Watson. It felt good to be back in the saddle! I'm now looking forward
to finding my next equine partner!
Two photos by Melissa Turner Photo by Brenda Hagel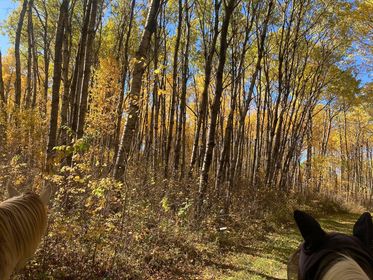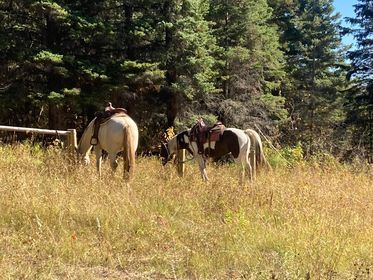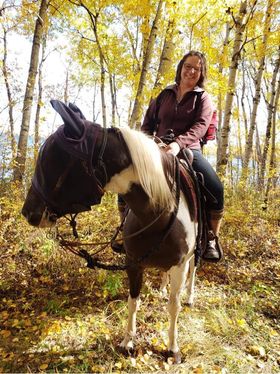 Three photos by Elaine Molnar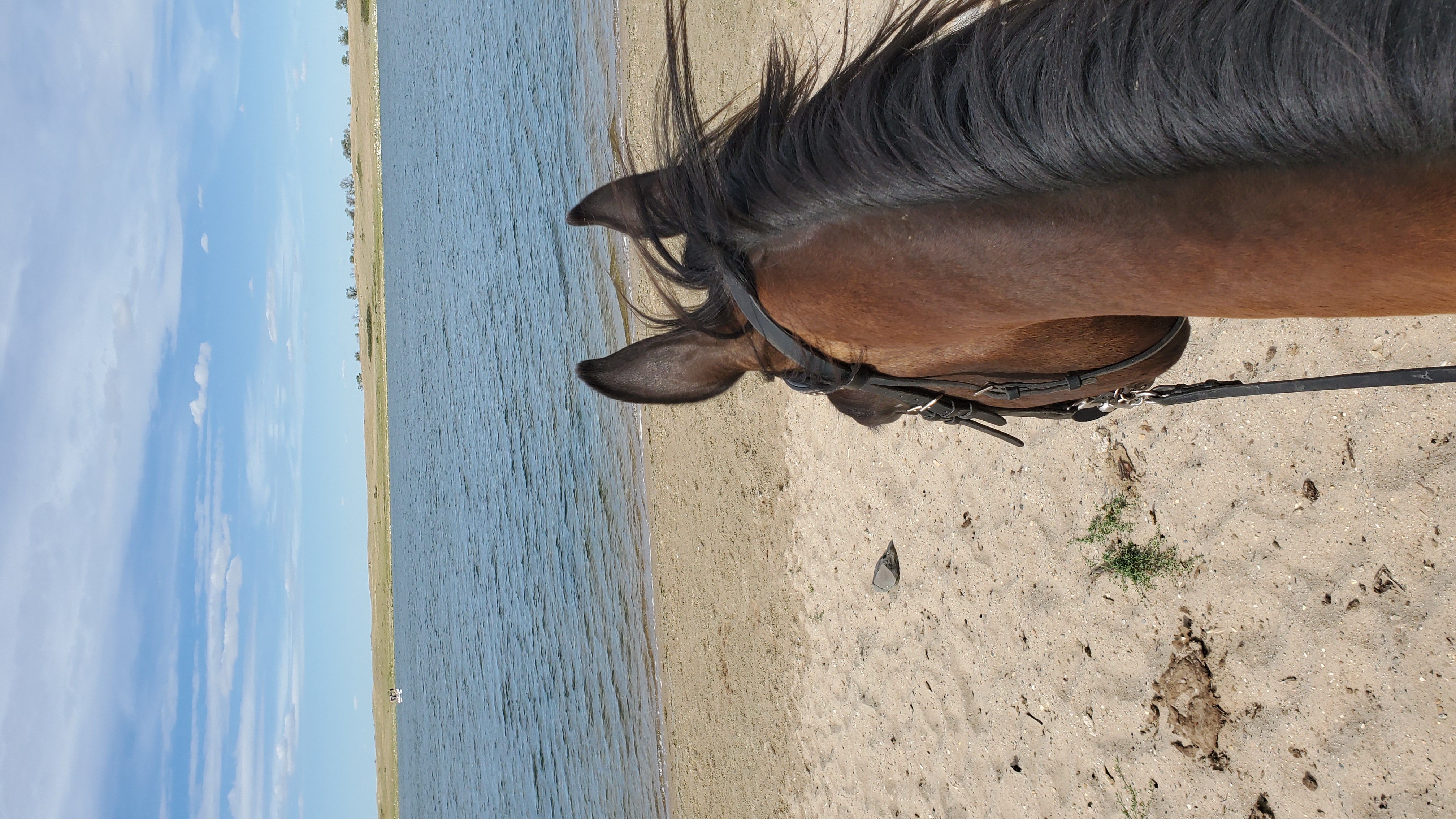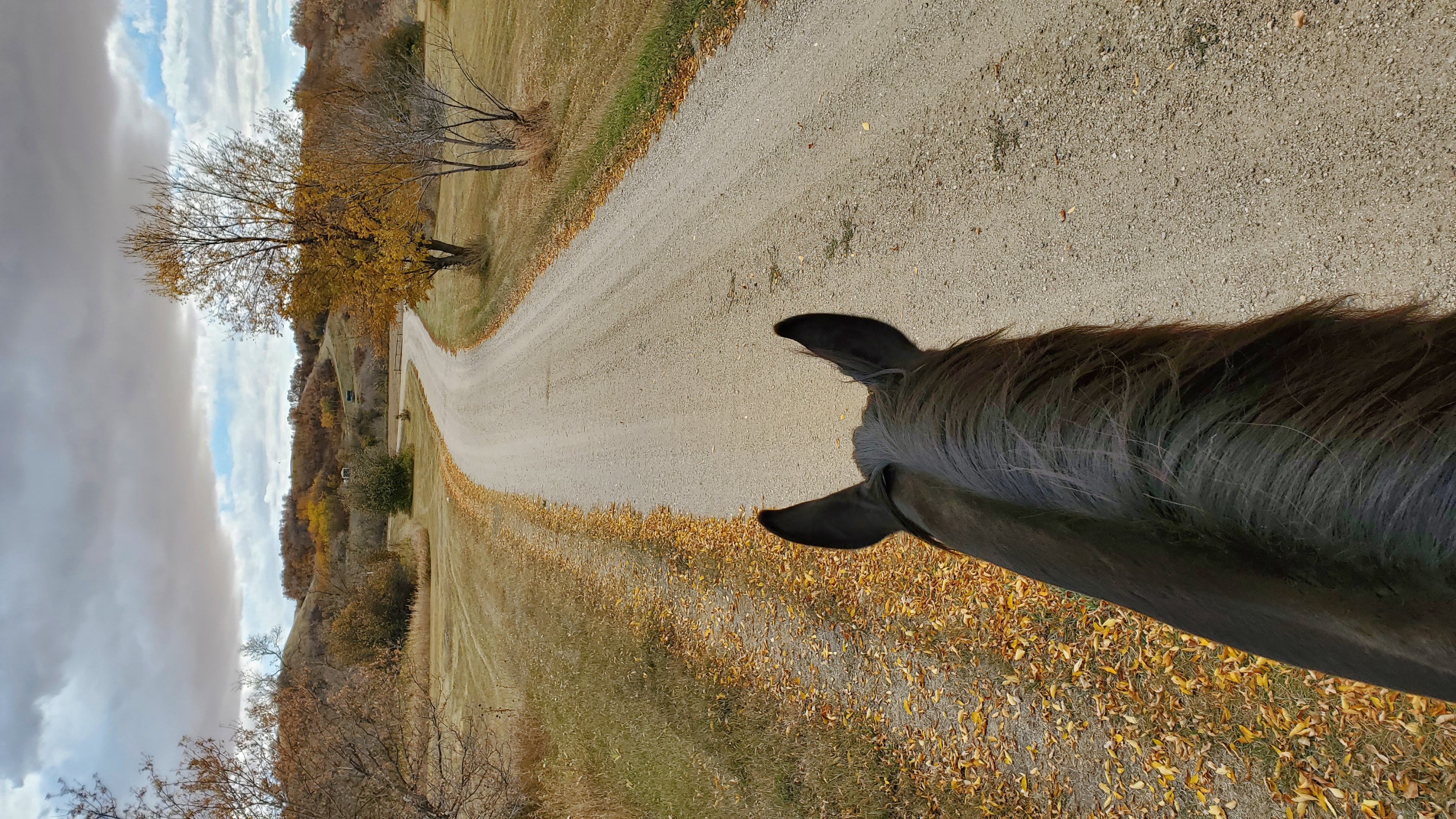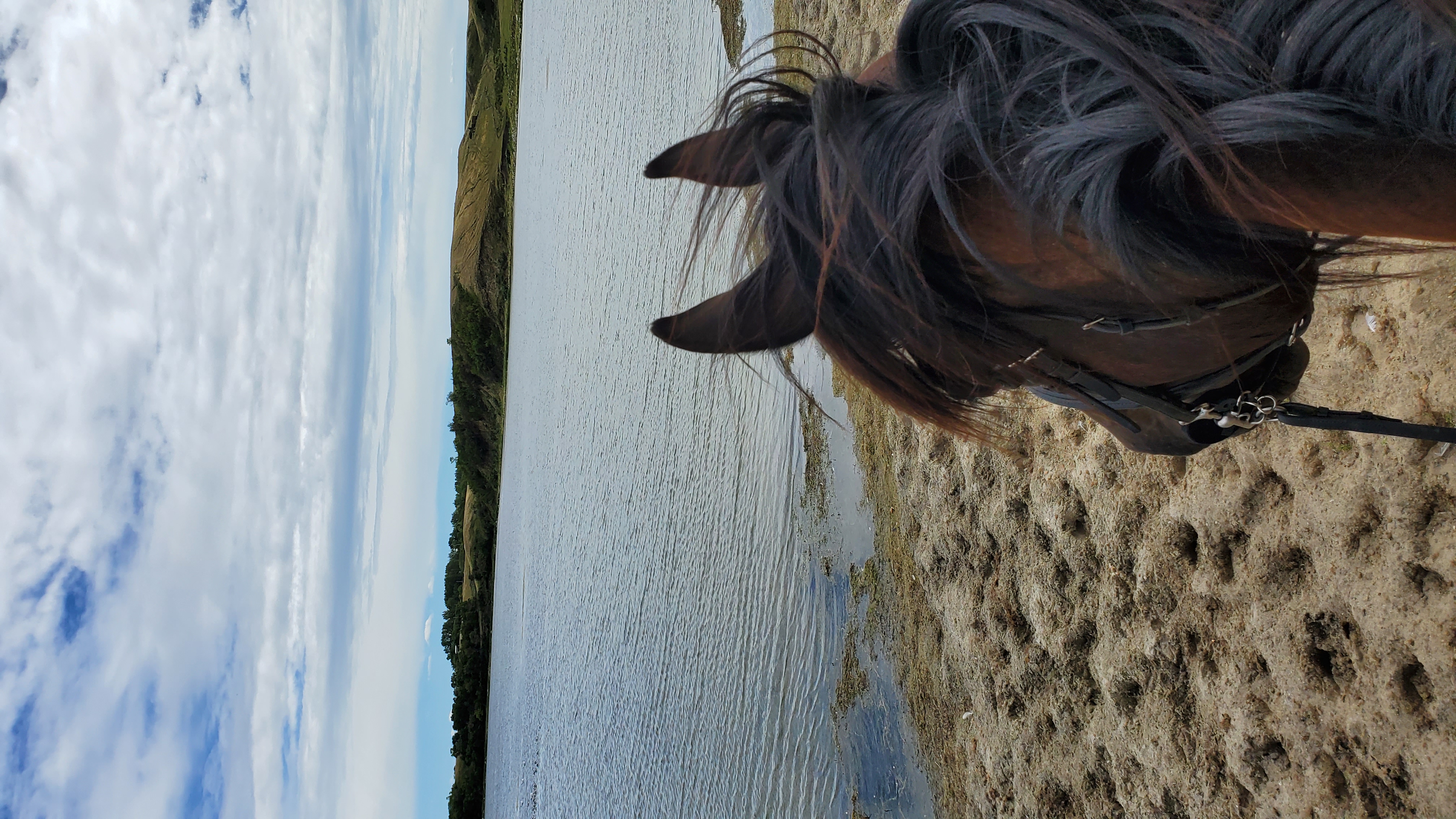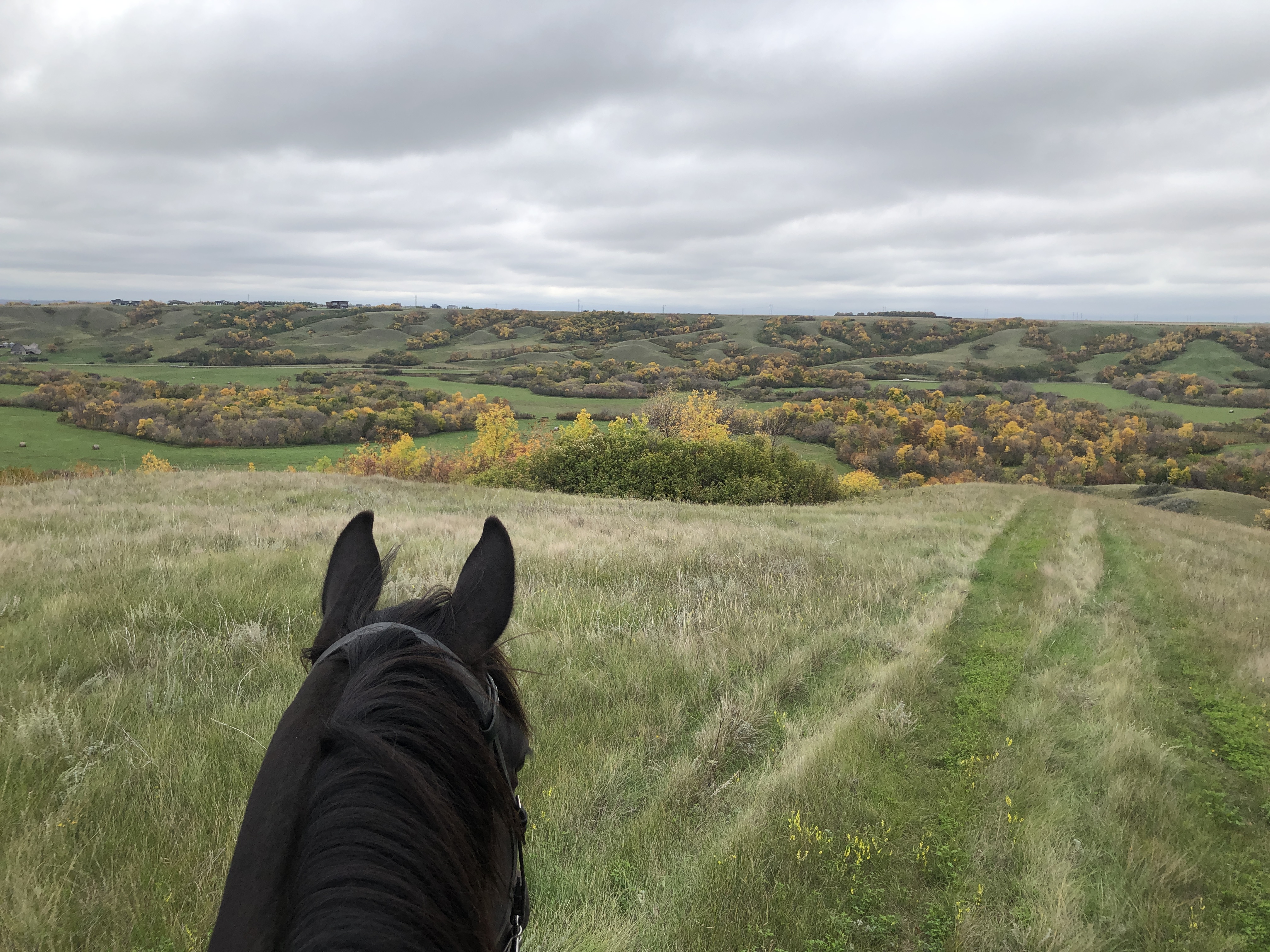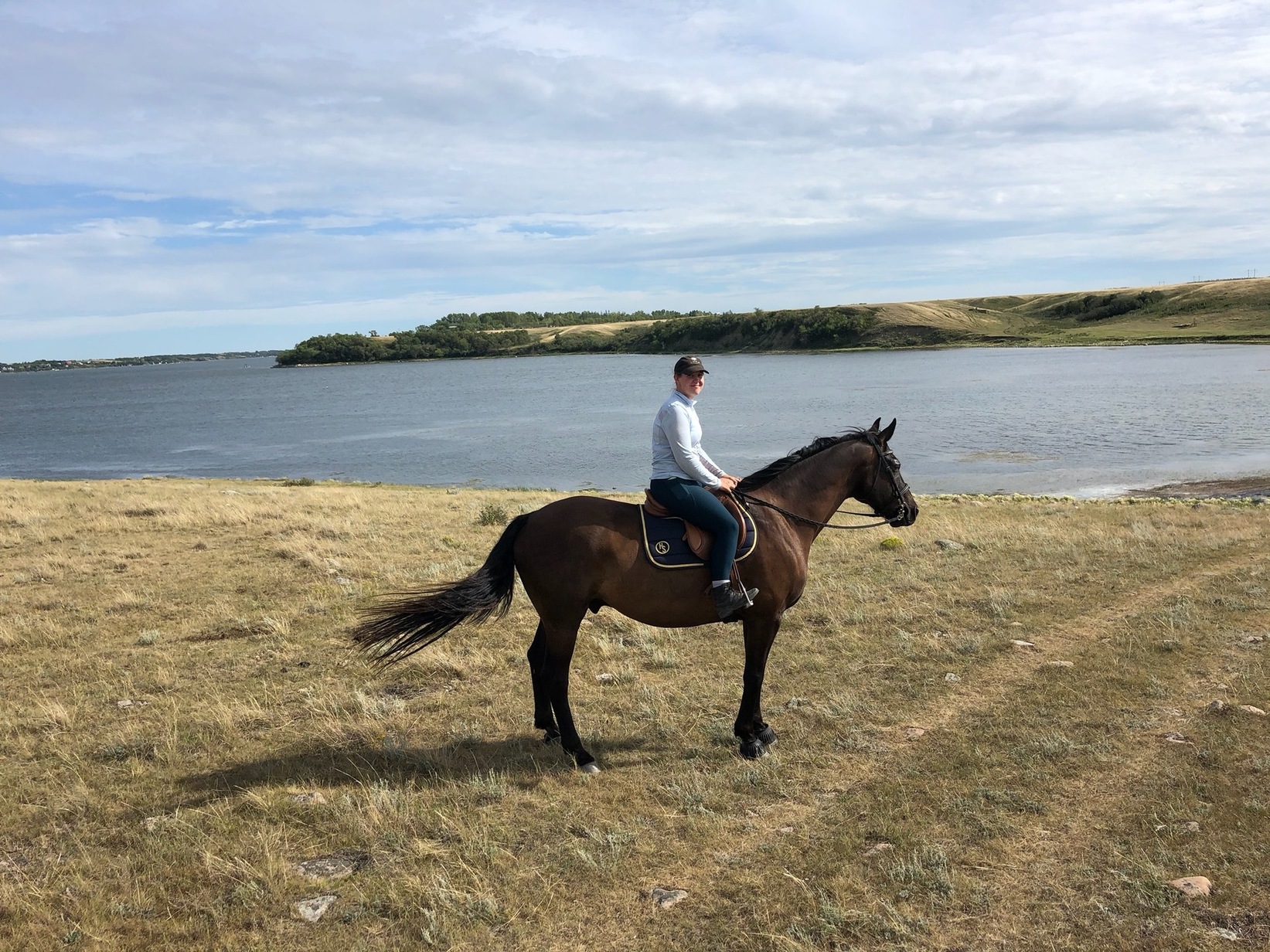 Five photos by Katie Finucan